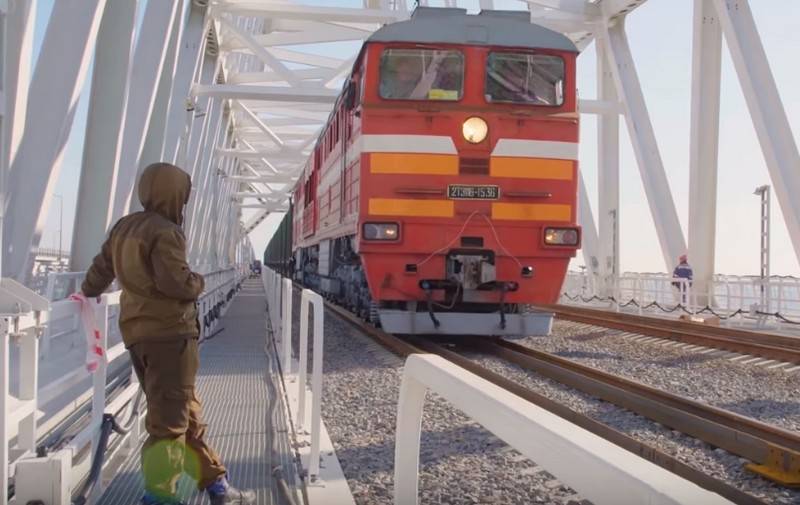 Russia does not have the right to launch a railway connection with the Crimean peninsula through an illegally constructed bridge across the Kerch Strait. In the case of the opening of passenger train traffic from Russia to Crimea, Ukraine will react accordingly. This statement was made by the so-called Permanent Representative of the President of Ukraine in Crimea Anton Korinevich.
According to the Ukrainian permanent representative, in the case of the launch of Russian passenger trains across the Crimean bridge, Kiev will react accordingly. According to him, entry into the "temporarily occupied territory" of Crimea and Sevastopol is possible only through official checkpoints located in the Kherson region on the territory of Ukraine. All other penetration of the peninsula is illegal and violates the criminal code of Ukraine.
We will certainly respond to this ... The occupying state does not have the right to do what it does
- said Korinevich, without explaining what he means by "the reaction of Kiev accordingly."
Korinevich said earlier that Ukraine has every right to block the water going to the peninsula, since the Dnieper River does not flow through the territory of Crimea, and water was delivered there through a canal belonging to Ukraine. Kiev "has every right" to block this technical structure, since it belongs to Ukraine. At the same time, he emphasized that on the peninsula "there are no problems with water", it is enough for the needs of the population.
Recall that the movement of passenger trains on the Crimean bridge will begin in the third decade of December.