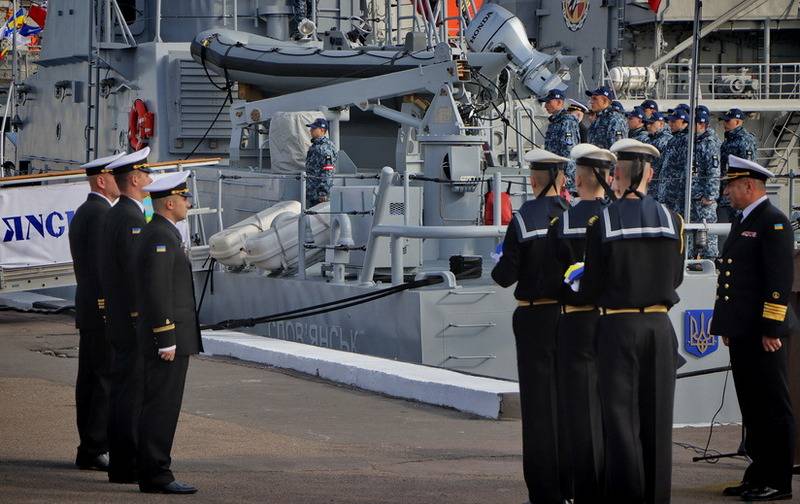 American patrol boats of the type "Island" today became part of the Naval Forces of Ukraine. The ceremony was held in Odessa in the presence of NATO representative Joseph Pennington, Deputy Minister of Defense of Ukraine Anatoly Petrenko, representatives of the local administration, etc. This was announced by the deputy of the Odessa mayor Andrei Kotlyar.
Today, at the invitation of the Commander of the Naval Forces of Ukraine Igor Voronchenko, he took part in the ceremonial inclusion of patrol boats "Slavyansk", "Starobelsk" and the search and rescue vessel "Alexander Okhrimenko" in the Navy of the Armed Forces of Ukraine
- Kotlyar wrote on his Facebook page.
Joseph Pennington, US Chargé d'Affaires in Ukraine, who spoke at the ceremony, promised that soon the United States would hand over three more decommissioned boats of the same type to Ukraine, although earlier it had been reported everywhere that the Navy was counting on four.
As previously reported in the Ministry of Defense of Ukraine, the boats arrived at the port of Odessa on October 21 on board the American container ship Ocean Freedom and, after unloading the 23 on October, were delivered to a military pier in the port of Odessa, where, under the guidance of foreign experts, the crews of the boats prepared them for operation.
On November 10 the P191 Starobelsk and the P190 Slavyansk conducted sea trials in the Black Sea.
As stated in the Navy, the boats will soon receive weapons. In particular, we are talking about installing the Katran-M combat module (BM-5M01), equipped with: 30-mm automatic gun ZTM-1, 30-mm automatic grenade launcher KBA-117, 7,62-mm machine gun KT-7,62 and 2 and 25 and 30 Barrier". It is possible that on the "Islands" the following will be installed: for detecting targets at a distance of up to 3 km at an altitude of XNUMX km, a two-coordinate coherent-pulse circular radar - Delta-M and Arbalet-K SAM from Luch Design Bureau . They can also be equipped with Neptune anti-ship missiles.