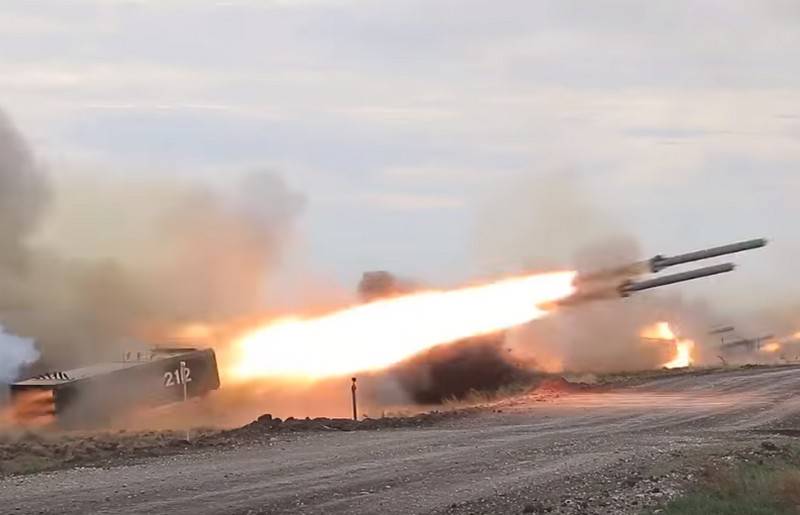 A new promising heavy flamethrower system TOS-2 ("Tosochka") will begin to enter the Russian armed forces in the spring of next year. This in an interview with the official publication of the Russian army to the newspaper "Red Star" said the head of the troops of radiation, chemical and biological protection Igor Kirillov.
According to Kirillov, the development of the promising TOS-2 heavy flamethrower system, previously called the "Tosochka", should be completed by the spring of next year, and by May these vehicles should already be in service with the flamethrower units of the Russian Chemical Forces Tank Battalion. Probably new flamethrower vehicles will take part in the Victory Parade on Red Square 9 on May 2020.
By the celebration of the 75 anniversary of Victory in the Great Patriotic War, the development of the TOS-2 heavy flamethrower system should be completed and delivered to the troops. It is planned that this combat vehicle will take part in a parade on Red Square
- he said.
The beginning of the second phase of testing a new flamethrower system was reported in June this year. As the general director of the Tekhmash concern Vladimir Lepin stated during the Army-2019 forum, deliveries of the TOS-2 ("Tosochki") to the armed forces are planned in the near future, but did not specify specific dates.
Unfortunately, we can't talk a lot about TOS-2, since there is almost no information on the new system in open sources. It is known that, unlike the TOS-1 "Pinocchio" and the TOS-1 "Solntsepek", which have a caterpillar tank chassis, the TOS-2 is created on a wheelbase. The launcher will remain the same as the previous platforms, and 220-mm unguided shells with a thermobaric or incendiary warhead will remain, although new ammunition designed specifically for the TOS-2 may appear.
Previously, the developers of the system reported that the new flamethrower system was created taking into account the experience of using such weapons during hostilities in the Middle East.