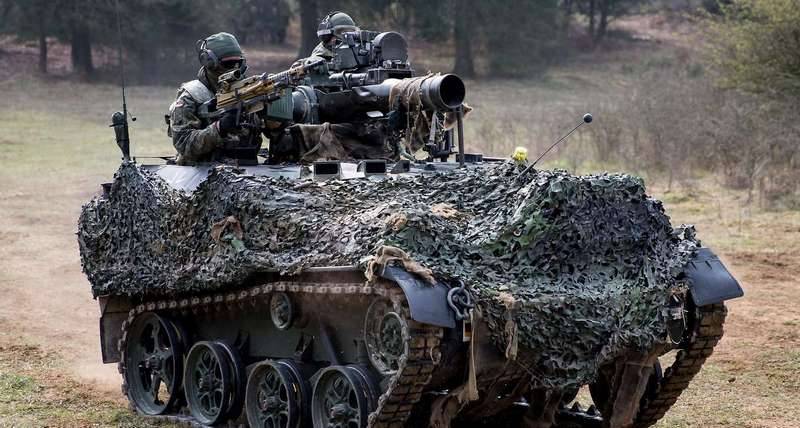 German airborne wedges, Wiesel-1, will extend their service life to approximately 2030 years. According to the press service of the German Ministry of Defense, the budget committee of the German Bundestag approved on Wednesday several military projects with a volume of about 560 million euros, among which 73 million euros were allocated to extend the life of these machines.
In total, according to published data, 196 tankettes of the Wiesel-1 (Laska-1) version will undergo repair and modernization. The German Ministry of Defense website does not explain what kind of modernization should be subjected
Tanks
, it is only indicated that the upgraded vehicles will be used as reconnaissance vehicles and as vehicles of the German Airborne Troops and should last until at least 2030.
The main combat vehicle of the German landing force "Wiesel" has been produced since the late 80 of the last century in two versions - "Wiesel-1" and "Wiesel-2". Wedges of the first modification were initially produced in two types: with an 20-mm automatic gun and with an anti-tank gun TOU. They are aero-transportable, it is possible to parachute PM using a parachute method (on the 4-ton modular parachute platform), however, preference was given to landing landing from airplanes during a landing operation or by helicopter during a tactical landing. Also on this base was created a self-propelled ground-based radar RATAC-SHa and several more prototypes that did not go into series. Total released from 1989 to 1992 year 345 machines of the first modification.
"Wiesel-2" - a platform sole with the extended base (on one skating rink). Based on this modification, an ammunition transporter, a self-propelled mortar, an ambulance, a command post vehicle, etc. were produced. In total, 178 copies of Wiesel-2 were released.
Those who wish to get acquainted with this wedge heel closer, you can follow the link and read the material of the "Military Review":
The combat landing vehicle "Wiesel" and "Wiesel-2" (Wiesel)