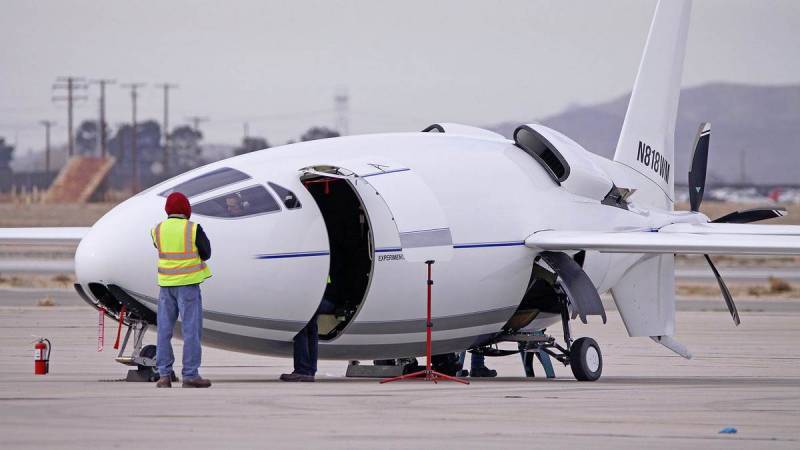 An experimental promising American aircraft Celera 500L, developed by Otto Aviation, made its first flight. According to The Drive, the plane took off in Victorville in California.
The Celera 500L aircraft, developed by the American company Otto Aviation, most likely completed its first flight. However, since all data on the aircraft is classified, this information may be unreliable, and the flight itself may already be the second or third. Details of the tests are unknown, except that the flight itself took place in early November in California at Victorville.
In May, the 2019 of the vehicle undergoing testing was spotted at an airport in Southern California. At the same time, information about the characteristics of the new product and even about its creator Otto Aviation Group, which has been working on the project in a secret mode for about ten years, is still extremely limited.
A promising aircraft has an experimental registration of the Federal Civil Administration
aviation
USA N818WM. The fuselage of the aircraft resembles the shape of a bullet or air bomb.
Celera 500L's flight speed is estimated to be 460-510 miles (740-820) per hour, altitude up to 65 000 feet (19,8 km), fuel consumption - gallon (3,8 liters) per 30-42 miles (48-68 km) . In comparison, the Pilatus PC-12, a popular lightweight single-engine turboprop, has a ceiling of 30 000 feet, cruising speed of just under 330 miles per hour and consumes an average of about a gallon on 5 miles of travel. As a result, Celera 500L performance is at least 10 times higher than existing light business jets with similar capabilities.
Celera 500L is designed according to the classic aircraft design. A Raikhlin RED A03 turboprop engine with up to 500 horsepower is installed in the tail of the aircraft. with a pushing five-blade propeller.