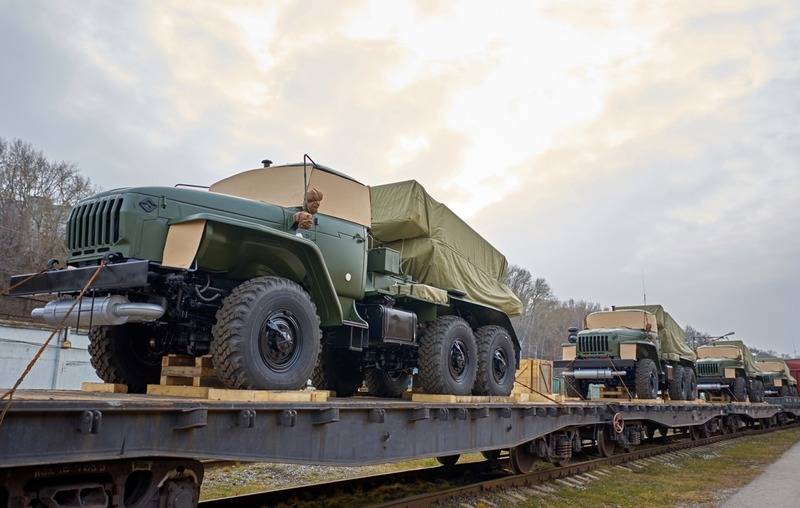 The final batch of combat vehicles from the multiple launch rocket systems (MLRS) "Tornado-G" delivered to the Ministry of Defense of Russia CJSC "Special Design Bureau", which is part of the group of enterprises "Motovilikhinsky plants." This is stated in a press release received by Military Review from the press service of PJSC Motovilikhinsky Plants.
The final part of the combat vehicles from the Tornado-G MLRS was sent to units of the Ministry of Defense of the Russian Federation as part of the implementation of the state defense order. The enterprise has fully and on time completed a range of works on repair and modernization of the Grad MLRS to the level of Tornado-G within the framework of the 2019 program of the year.
122-mm MLRS "Tornado-G" - an upgraded version of the installations "Grad". A feature is the increased firing efficiency, more powerful ammunition, the presence of automated guidance systems, aiming, topographic location and navigation. Adopted in the 2014 year. The nomenclature included cluster shells with a detachable warhead and self-aiming cumulative warheads.
Earlier, the Ministry of Defense reported that the BM-21 Grad missile systems being replaced by armaments will not be decommissioned, and as far as possible they will be upgraded to the Tornado-G MLRS level.
Motovilikhinskiye Zavody is the developer and the only manufacturer in Russia of combat and transport-loading vehicles from the composition of multiple launch rocket systems such as Grad, Smerch and their modified versions of Tornado-G, Tornado-S.