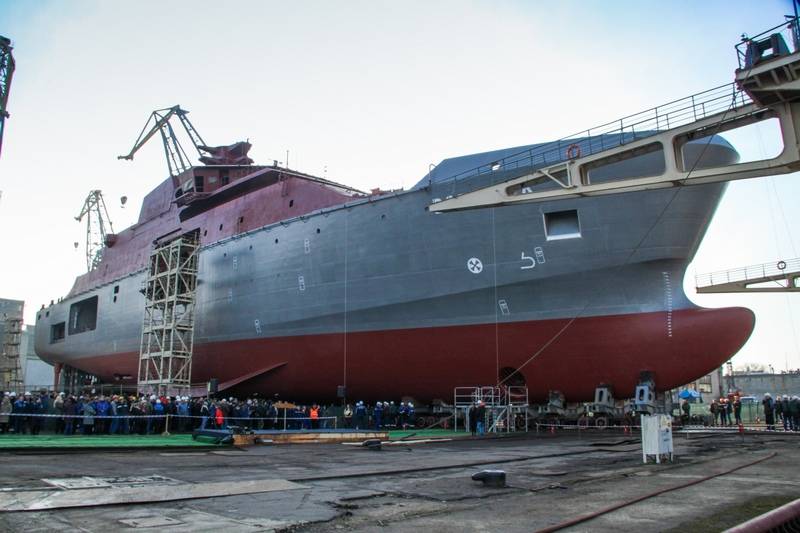 In Kaliningrad, the Voyevoda vessel of the 23700 project was launched. The ceremony was held on November 8 on November 2019 at Baltic Yantar Shipyard JSC. The plant employees, representatives of the United Shipbuilding Corporation and ship customers - the Ministry of Industry and Trade of the Russian Federation and the Ministry of Transport of the Russian Federation took part in it.
The Voyevoda emergency support vessel of the 23700 project was launched. This project was developed by Severnoe PKB JSC, the ship was laid at the Yantar Shipyard on 21 on April 2017 of the year. According to the press service of the enterprise, Voevoda is the lead vessel of the series, although there is no information on the possible continuation of the construction of ships of this project. Under the terms of the contract, it was supposed to be transferred to the customer in November 2019 of the year, but at the moment it has come only to launch. The new deadline for the ship is the 2020 year. The ship is being built in the interests of the Federal Agency for Sea and River Transport (Rosmorrechflot).
According to the design documentation, the 23700 project vessel is designed to provide emergency rescue operations, as well as transportation and supply of small search and rescue craft. The vessel is capable of carrying four boats on its board and take on board two helicopters. Displacement - 7500 tons, length - 111 m, width - 24 m, speed - 22 knots, cruising range - 5000 miles.