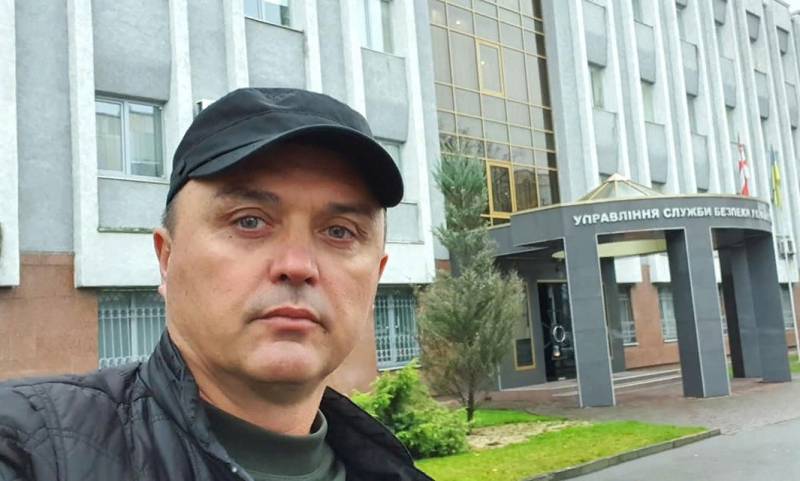 The former leader of the radical nationalist battalion Aidar (* banned in Russia), Igor Lapin, said that he had been summoned for questioning by the Security Service of Ukraine. Recall that with "Aydar" there are many criminal episodes during the stay of the National Battalion in the Donbass, some episodes are more suited to the status of war crimes.
According to Lapin, during the interrogation, SBU representatives inquired about the details of the fighting for Lugansk Airport in the summer of 2014. Recall that the then Minister of Defense of Ukraine, Mr. Geletey declared absurd about the alleged use of "Russian military personnel
weapons
in attacks on the Lugansk airport. "
Lapin himself claims that he was called for questioning at the SBU with the aim of clarifying the circumstances of the death of a Russian citizen who was captured by the "Aidar's".
Lapin:
Now we have a criminal case on the murder of a citizen of Russia. By the way, from Moscow. Pull our lads. I was at the SBU today and testified as a witness. Once our wives were waiting for us from the war, now they are forced to wait for us from interrogations. God forbid that they will have to wait for us from prison.
We are talking about the representative of the LPR militia, a citizen of the Russian Federation, who was captured by the Aydar militants along with 11 other militias, and a few days later in Ukraine reported his death. Aidar then stated that the Russian "died his death" from wounds received in battle. However, as previously reported, there were suspicions that the LNR fighter could be tortured to death in captivity, or that he simply did not receive any medical assistance after being injured.
Lapin:
The battle lasted from the 12 at one in the afternoon to the 5 at one in the evening. And when the battle was over, the prisoners were sent by helicopter to the heap where the doctors were.