Aviation
Russian Vityaz aerobatics aerobatics team received four new single-seat multi-functional fighter Su-35S. The planes were received at the aerodrome of the aircraft factory in Komsomolsk-on-Amur and made a flight to Kubinka near Moscow.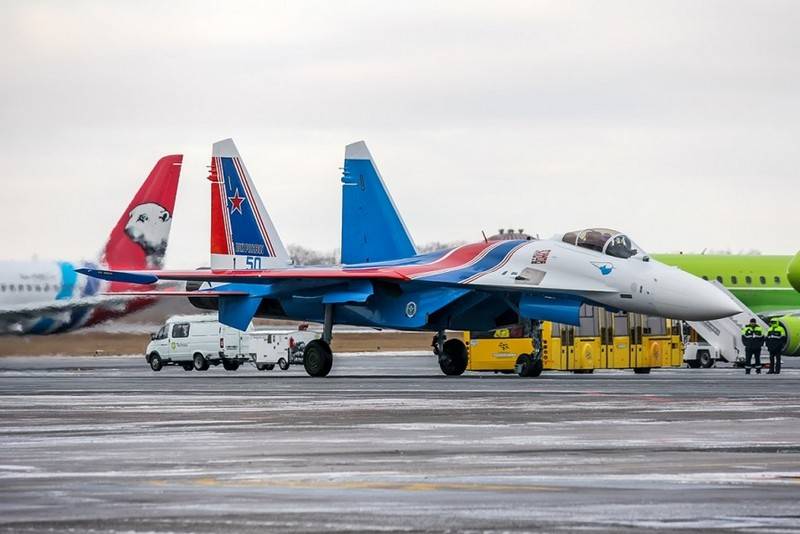 One of the Su-35С during an intermediate landing at the Tolmachevo airport (Novosibirsk)
Four Su-35С multi-role fighters, already painted in the colors of the Russian Knights Aviation Group, were received by the group's pilots at the airfield of the KnAAZ manufacturing plant, after which they made a flight to the permanent base at the Kubinka airfield near Moscow, making an intermediate landing on the way in Novosibirsk. Su-35С replenished the fleet of the group, consisting of eight two-seat fighter Su-30СМ received by the group in October-November 2016 of the year. Moreover, it was previously reported that with the receipt of Su-35С, the group will not refuse to fly on the Su-30СМ.
With the transfer of these Su-35С aircraft plants in Komsomolsk-on-Amur ahead of schedule fulfilled the delivery plan for these fighters according to the State Defense Order 2019 of the year, all transferred to 10 fighter Su-35С. Four of them received the Russian Knights, and six Su-35S were delivered to the 790 Fighter Aviation Regiment of the 105 Combined Aviation Division of the 6 Leningrad Red Banner Army of the Air Force and Air Defense of the Western Military District, deployed at the Hotilovo airfield in the Tver Region .
Russian Knights is the only aerobatic team in the world showing aerobatics on the Su-27 and Su-30СM heavy fighters, which differ only in color from combat aircraft. 5 was formed on April 1991 of the year on the basis of the 1 air squadron of the Aviation Equipment Display Center at the Kubinka airfield. It consists of five pilots: Colonel Andrei Alekseev and Oleg Erofeev, Lt. Col. Sergei Scheglov, Majors Vladimir Kochetov and Igor Tkachenko.