The mass of the first prototype of the IL-112В light transport aircraft was reduced by one ton; work in this area continues. This was reported by the press service of PJSC Il.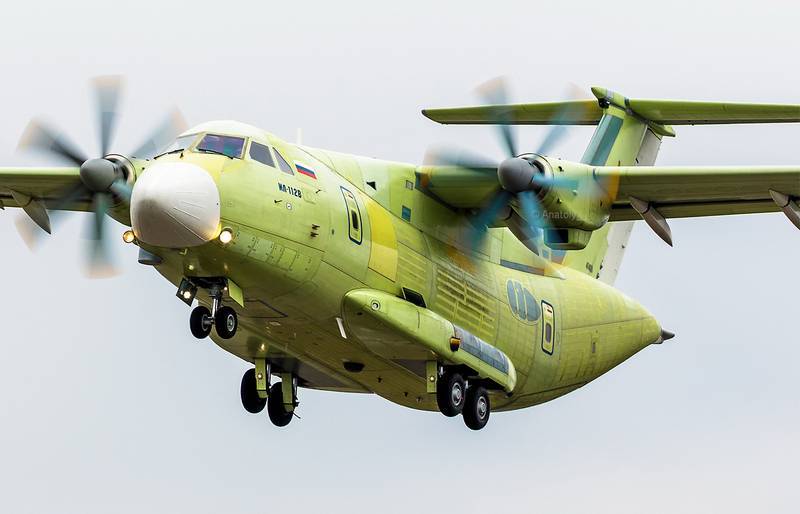 The designers of Ilyushin reduced the weight of the first prototype of the Il-112В transport aircraft by one ton due to the use of new materials and modified equipment. Work on reducing weight is carried out at the VASO manufacturing plant in consultation with the Ministry of Defense. After completion, the aircraft will return to flight tests.
The aircraft implemented solutions to optimize take-off mass, which allowed to reduce the weight of the structure by more than a ton. This was achieved through the use of composite materials, improving systems and equipment of the aircraft
- said in a statement.
Earlier in Ilyushin it was reported that during the refinement, in agreement with the Ministry of Defense, the mass of the light transport aircraft Il-112В will be reduced by 2 tons. For this purpose, some units are being replaced on the aircraft and minor changes are made to the internal structure of the aircraft. In particular, the ramp and the doors of the cargo hatch are being replaced, work is underway to reduce the composition of the navigator's workplace, etc. At the same time, work is carried out immediately on all four aircraft.
Light military transport turboprop aircraft Il-112V is created for replacement in the transport
aviation
An-26 and An-24 aircraft, whose resource will soon be exhausted. The aircraft is the first developed from scratch in Russia, work has been ongoing since 2014. Designed for transportation of military personnel, military equipment, various types of weapons and other goods. The carrying capacity is 5 tons, the flight range is 5 thousand km, the aircraft is able to land and take off from unpaved airfields.
The first flight of the aircraft made 30 March this year.