The first batch of special fire engines based
tanks
T-72 and T-80 were first manufactured at Omsktransmash JSC after a two-year break. This is stated in the press service of UVZ, which includes the Omsk plant.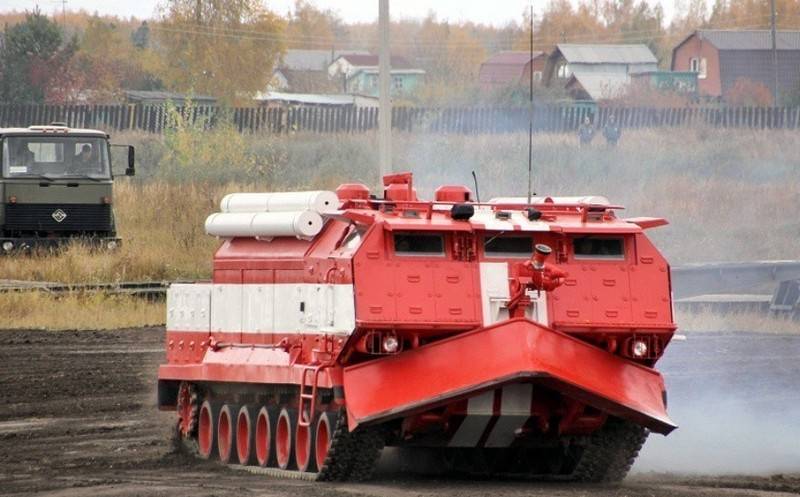 The first batch of "fire tanks" was made for the first time in two years at Omsktransmash and was already shipped to the customer as part of the state defense order. In the manufacture of special fire engines (SPM), the components and parts of the T-72 and T-80 tanks are used, which allows the use of this equipment for extinguishing fires and rescue operations at arsenals, warehouses and bases for storing explosive substances, clearing passages to fire centers, laying fire strips in forest fires.
The SPM or "fire tank" was developed by the designers of the Omsk Transport Engineering Plant in the 2012 year, and in the 2015 year this equipment was adopted for supply to the Russian Ministry of Defense. Based on the results of their operation, some improvements were made to the design, after which the production of modernized equipment was resumed.
SPM has the ability to extinguish a fire from a distance of 100 m, while the extinguishing processes can be controlled remotely. SPM is equipped with four surveillance cameras and two thermal imagers, which allows the crew to have a circular review of the area and identify fires at a significant distance.
The metal case is coated with a special refractory layer, which can maintain fire resistance for 2 hours.
The total mass of SPM is not more than 65 tons. The fire tank is protected by removable armored screens, the crew stationed in the armored cockpit is 3 person. Reservations protect the crew from bullets and fragments from a ground explosion. Maximum protection - against the expansion of elements of high-explosive fragmentation projectile caliber 152 mm.
The volume of water and other fire extinguishing agents is 25 cubic meters. SPM is equipped with a wedge-shaped blade for clearing the area and creating special firebreaks.