The third joint Russian-Turkish patrol, which took place today in the north of Syria in the areas where the Syrian Kurds live, was not without incidents. A video appeared on the YouTube channel of a joint patrol car driving past one of the Kurdish villages along the route.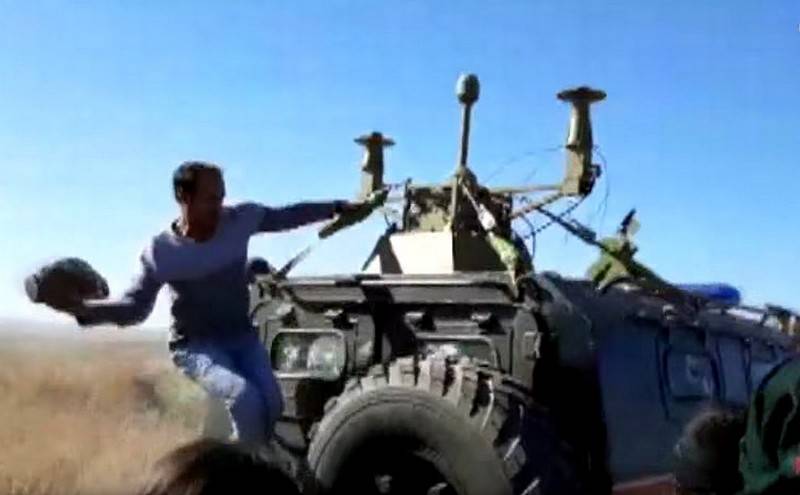 The video clearly shows how a crowd of local residents gathers along the route of the armored vehicles of the Russian-Turkish patrol and, despite sound signals, does not recede from the road, but starts throwing armored vehicles with stones and improvised means. In the crowd there are not only men, but also women who, along with them, throw patrol cars. The hail of stones is clearly visible, having fallen on the Tiger armored car and the BTR-80 Russian policemen running ahead of the columns. Got and armored vehicles "Kirpi" Turkish border guards.
It is incomprehensible that the column stopped when the crowd, emboldened by the lack of resistance, climbed onto the closing column of the Tiger armored car of the Russian military police, trying to inflict damage not only on it with stones, but also with a sledgehammer.
This is the second time that a patrol armored car was stoned, the first occurred during the second joint patrol a few days ago.
Earlier, the Russian Ministry of Defense reported that, in the framework of the joint memorandum, Russia and Turkey conducted a third joint patrol on the previously approved route in northern Syria. The patrol took 4 hours, during which time the patrol covered 105 km. At the same time, no serious incidents were reported on the route.