The diesel-electric port icebreaker "Ob" was put into operation and transferred to the customer. The flag-raising ceremony was held in Murmansk on November 5 this year. This was reported by the press service of the FSUE Atomflot.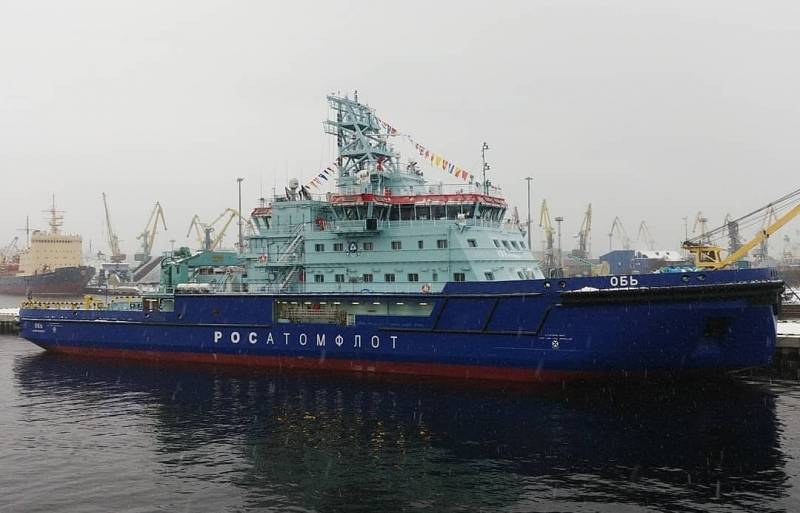 The construction of the Ob icebreaker was carried out at the Vyborg Shipyard. This icebreaker was built as part of a project to create a port icebreaker
fleet
and is designed to work in the port of Sabetta. In addition to it, tugs Pur, Tambey, Nadym and Yuribey were built as part of this project. On November 7, the ship departed from Murmansk in the direction of the future workplace.
The diesel port icebreaker "Ob" with a capacity of about 12 MW was laid on September 27 of 2016 of the year as part of the Yamal LNG project. Launched on 21 June 2018 year. The length of the vessel is 89,2 m, breadth - 21,9 m, draft - 7,5 m. The purpose of this type of icebreakers is to work in ports and coastal areas. The technical design of the icebreaker was developed by the Finnish design bureau Aker Arctic Technology Inc. Working design documentation was prepared by the Central Design Bureau "Balsudoproekt" with the participation of JSC "Design Bureau" Vympel ".
The greatest efficiency of the icebreaker is achieved when the ice thickness is not more than 1,5 meters at a speed of 2 knots, can also develop the speed of 4 knots in broken ice up to 5 meters thick. Four independent azimuthal propulsion systems with an electric traction type drive are installed on the icebreaker, located in pairs in the fore and aft parts of the icebreaker, which allows the vessel to move in the ice both fore and aft. The power of each azipode is 3 MW. The crew of the icebreaker 19 people.