Russian VKS have big plans for MiG-31 interceptors, write the American media. In addition to their main tasks, these aircraft must now launch dagger missiles and fight with enemy satellites. Recently, the Russian Ministry of Defense showed footage of exercises in the stratosphere, revealing the main features of the new modification of the MiG-31BM.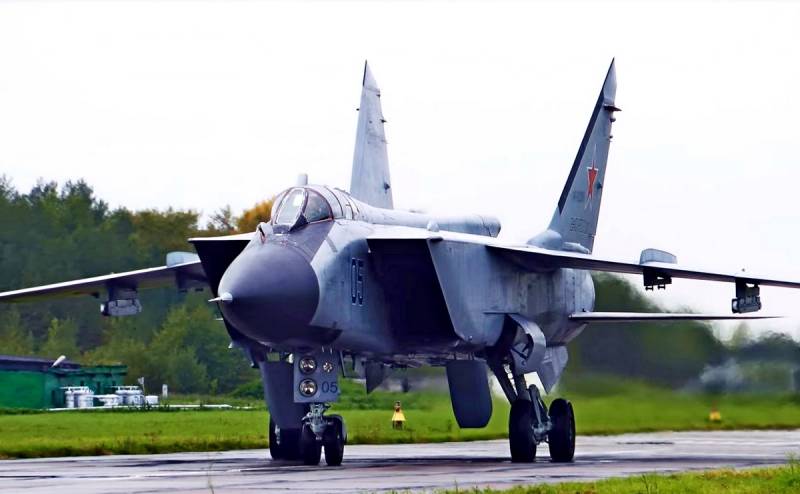 The published video demonstrates the protection of the country's air borders. During the exercises, the MiG-31 interceptor of the basic modification monitored airspace and helped ground-based radars. After the intruder was discovered, two modernized MiG-31BMs flew to intercept. They found the target and carried out a training attack from 150 km.
Fighter
aviation
regularly conducts such exercises. But recent events had an important feature: flights took place at altitudes of 18000 m and at speeds of 2800 km / h.
According to the TASS news agency, 10 crews participated in the flights - probably they alternately played the roles of interceptors and intruders. Since the events were attended by the upgraded MiG-31BM, their goal could be to train pilots and test equipment.
Thus, the MiG-31 service continues. Conservation and modernization of interceptors contribute to their high flight data and carrying capacity. The latter has recently been used for carrying dagger aeroballistic missiles. 12-16 aircraft with such
weapons
have been on duty in the Black Sea since the middle of last year. Thus, the MiG-31 is now not only an interceptor, but also an attack missile carrier.
The latest modernization of the MiG-31БМ from 2010 follows the favorite Russian tradition of updating equipment. The finished platform is equipped with modern electronics and weapons, which gives the desired result at a reasonable cost. The MiG-31BM retains not the new but successful D-30F6 engine, but also receives the Zaslon-M radar, a "glass cabin" and digital controls.
In the meantime, it is planned to create a new complex of on-board equipment with enhanced characteristics for the promising MiG-41 interceptor, which can enter the troops by the end of the 20's. It is expected that this aircraft will be hypersonic and will be able to rise into the near space. However, before its appearance, the interception of intruders and the launch of the "Daggers" will be the task of the MiG-31BM aircraft.