Israeli wheeled armored personnel carrier "Eitan" and tracked armored personnel carrier "Namer" will soon receive a combat module. According to the bmpd blog, citing oleggranovsky, the directorate
tank
Merkava and BTT at the Israeli Ministry of Defense completed the development of an uninhabited cannon-armed turret.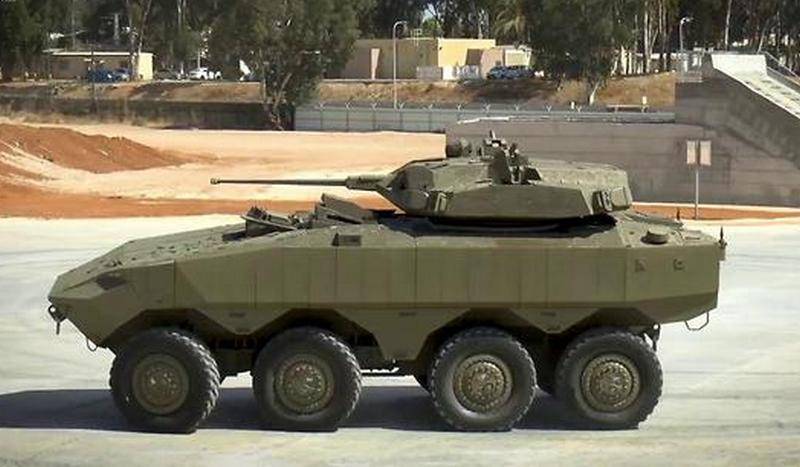 Israeli armored personnel carriers "Eitan" and "Namer" will receive an uninhabited turret with cannon armament, called "Zrikhon" ("Turret"). This combat module is armed with an 30-mm cannon, coaxial 7,62 mm machine gun and the Gil anti-tank system (Spike LR II). According to the developers, all the weapons of the module have particularly high elevation angles, which will allow shelling targets located on the upper floors of buildings.
It is noted that with the adoption of this combat module, the Israel Defense Forces (IDF) receive for their infantry a powerful means of fire support, capable of hitting targets not only from a place, but also in movement.
The Ministry of Defense of Israel explained that the new tower will be installed on the new wheeled armored personnel carriers "Eitan", the tests of which are already being completed and it is planned to start mass production. In addition, the module will be installed on the heavy Nemer APC, which is already being supplied to the IDF. The new Tsrikhon tower will be equipped with part of the armored personnel carriers armed with the regular infantry brigades Golani and Givati, and some will remain with the mounted Katlanit turret with an 12.7-mm machine gun.
As noted by the IDF, the modernization of already in service with the BTR "Namer" will not take much time. The new tower "Zrikhon" is designed so that its installation on an already launched armored personnel carrier takes only one day of work.