The American army wants to get into service a system that can transmit the energy received by spacecraft to the earth. A research contract on this topic has been concluded with Northrop Grumman, an American corporation.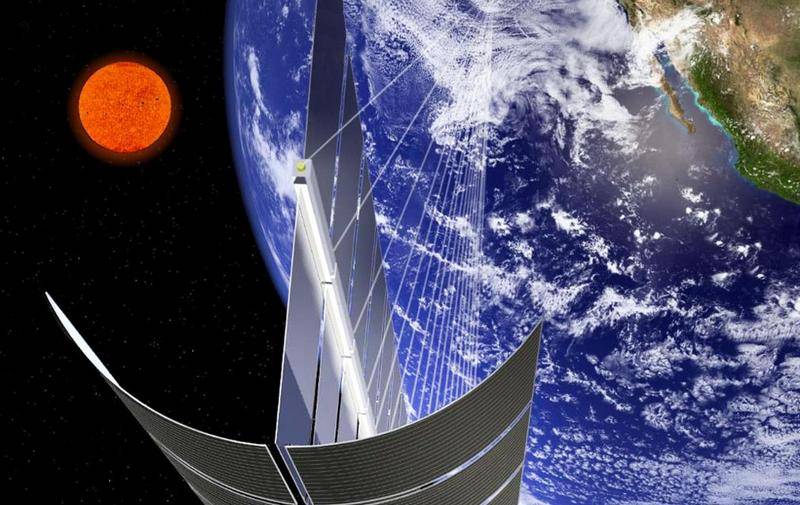 The US Air Force Research Laboratory and Northrop Grumman Corporation have entered into an agreement to develop and build equipment for wireless transmission of energy from spacecraft. The work will be conducted as part of the SSPIDR (Space Solar Power Incremental Demonstrations and Research) program. The corporation has already received a little more than 100 million dollars for work.
Within the framework of this project, the corporation should create a spacecraft with highly efficient solar panels, which will be able to collect solar energy, convert it into radio wave radiation and transmit it to the earth, where special receivers must receive it and convert it to electricity. Accordingly, the development of receivers and energy converters will also be carried out within the framework of this project by specialists of the corporation.
Project details were not disclosed. The U.S. Army plans to use technology for the uninterrupted generation of electricity for field camps or outposts in remote places (mountains, deserts, etc.), where it is difficult to deliver mobile generators and other equipment that can generate electricity.
Energy is a strategic advantage and potential vulnerability for our state and the Ministry of Defense. To ensure the success of the missions of the Ministry of Defense, we must have the necessary energy at the right time and place
- said laboratory director Colonel Eric Felt.
Earlier it was reported that the U.S. Navy Research Laboratory completed the second phase of testing a laser power transmission system, during which tests 400 watts of power were successfully transmitted using an infrared laser over a distance of 325 meters.