In the near future, the US Army will be armed with a ground-based robot designed to carry goods. As transmits
"NPlus1"
referring to Defense News, in the USA they summed up the results of the SMET tender (Squad Multipurpose Equipment Transport, multi-purpose equipment transport for squad).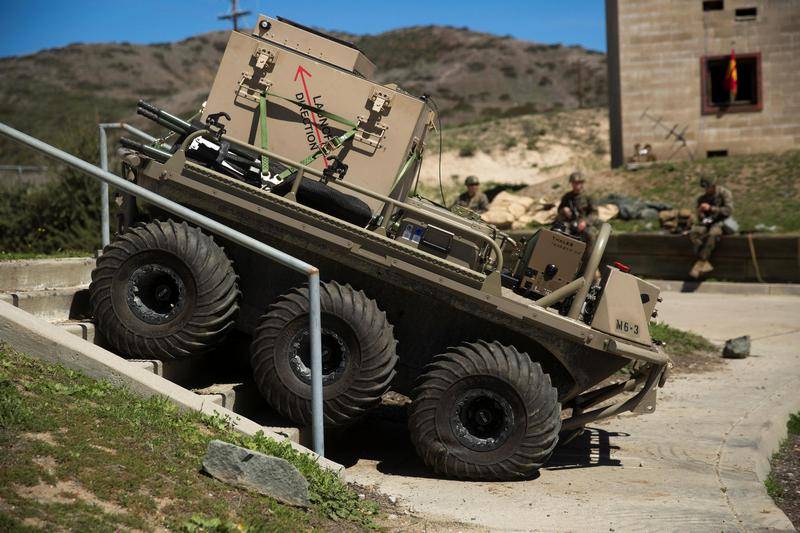 MUTT 6X6 in trials
General Dynamics Land Systems won the tender for the supply of the US Army ground-based robot for the transport of goods. The company's specialists proposed the military wheeled robot MUTT (Multi-Utility Tactical Transport, multifunctional tactical transport). The robot is designed in three versions with wheel formulas 4 × 4, 6 × 6 and 8 × 8, at the same time, the wheelbase can be replaced by a tracked one.
The choice of the US Army fell on the eight-wheeled version of the robot. It is stated that with a dead weight of 1,4 tons, a length of 2,9 and a width of 1,5 meters, MUTT is capable of transporting loads of up to 544 kilograms over a distance of 96 km. It can swim and is equipped with an 3 kilowatt generator. The robot is controlled from the remote control, there is also a semi-automatic mode for following the soldiers of its squad.
Now, under the terms of the agreement, General Dynamics Land Systems is due to supply the US Army 624 with new robots, maintenance equipment, and simulators. The first batch of MUTT should enter the troops in the first quarter of the 2022 of the year, and the end of deliveries is scheduled for the end of October of the 2024 of the year.