The Soviet atomic Tsar Bomb, tested on Novaya Zemlya in the Arctic on 30 on October 1961, proved unsuitable for a real war. This statement was made by the author of an article published in the Spanish newspaper La Vanguardia.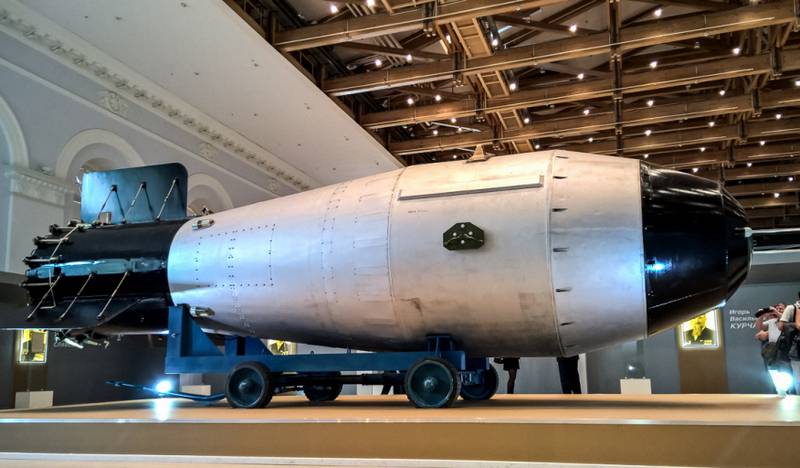 According to the journalist, the Soviet atomic Tsar Bomb was nothing more than a "Soviet bluff" designed to intimidate capitalist countries and demonstrate advanced Soviet technologies to them. The leadership of the Soviet Union knew this and tried to hide it. In fact, this atomic bomb could not be delivered over long distances, the author claims, and most of its energy in the explosion went into space in the form of radiation. The 27-ton thermonuclear Tsar Bomb was 8 meters long, and the Tu-95 heavy strategic bomber was even converted for its transportation.
The USSR and America spent exorbitant budgetary funds to create equipment unsuitable for real military operations
- says the Spanish journalist.
AN602 (aka Tsar Bomb) - thermonuclear
aviation
a bomb developed in the USSR in 1956-1961 by a group of nuclear physicists led by academician Igor Kurchatov.
The test took place on October 30 1961 of the year by dumping Tu-95В from the Sukhoi Nos nuclear test site on Novaya Zemlya. The explosion power was 58,6 megatons of TNT, and there was also a variant of the bomb with 101,5 megatons of power.
To date, the Tsar Bomb is considered the most powerful manufactured explosive device in all
history
of humanity. It is listed in the Guinness Book of Records as the most powerful thermonuclear device that has passed real tests.