Against the background of incoming reports about the beginning of patrolling of the Russian military police in the area of ​​the demarcation line near the Syrian-Turkish border, information began to come about the beginning of patrolling the American contingent remaining in Syria. According to the agency
Firat
, The US military began patrolling the oil region in northeast Syria.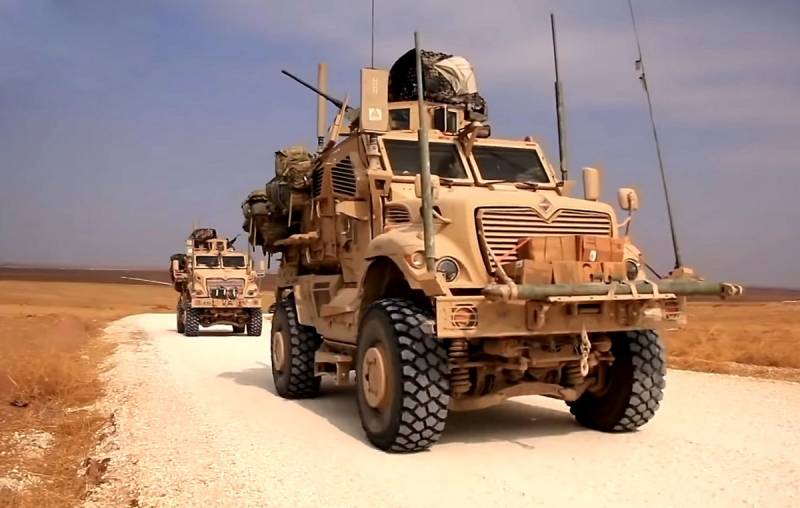 According to the agency, the US military began patrolling the oil-bearing areas in northeastern Syria together with representatives of the Forces of Democratic Syria (SDS) coalition, which is based on Kurdish militias. According to reports, the first American patrol consisted of five coalition vehicles, the number of Kurdish vehicles was not reported.
A joint convoy of US and SDS forces patrolled oil rural areas in northeast Syria. The American part of the convoy consisted of five army vehicles
- said in a statement.
As noted, this is the first such mission conducted by the US coalition together with the SDS after the announcement of the withdrawal of part of the troops from Syrian territory.
The Pentagon announced that they would send an additional military contingent reinforced with armored vehicles to Syria, including
tanks
Abrams, to protect the oil-bearing areas in the north-east of the country from the "terrorist attack of the Islamic State" "(prohibited in Russia). According to recent reports, the United States intends to concentrate up to 900 US troops in the area, which will be supported by Arab-Kurdish military units from the SDS.
Earlier, the Russian Ministry of Defense published space intelligence data, according to which the United States, under the guise of statements about "protection against IS", illegally extracts oil in Syria and sends it for processing in neighboring countries. According to available information, the monthly income from stolen oil is more than 30 million dollars.