Millennium Economic Innovation: Growth through Enhancing Confidence!
Russian law enforcement agencies are sorely lacking in trust. And not anyhow what, but the confidence of entrepreneurs. And Russian Prime Minister Dmitry Medvedev decided to take a radical approach to solving this problem, instructing the Ministry of Economy, the Ministry of Internal Affairs, the FSB, the Russian Guard and some other interested bodies of state power and administration to submit their proposals to the government to strengthen business confidence in law enforcement and the judicial system.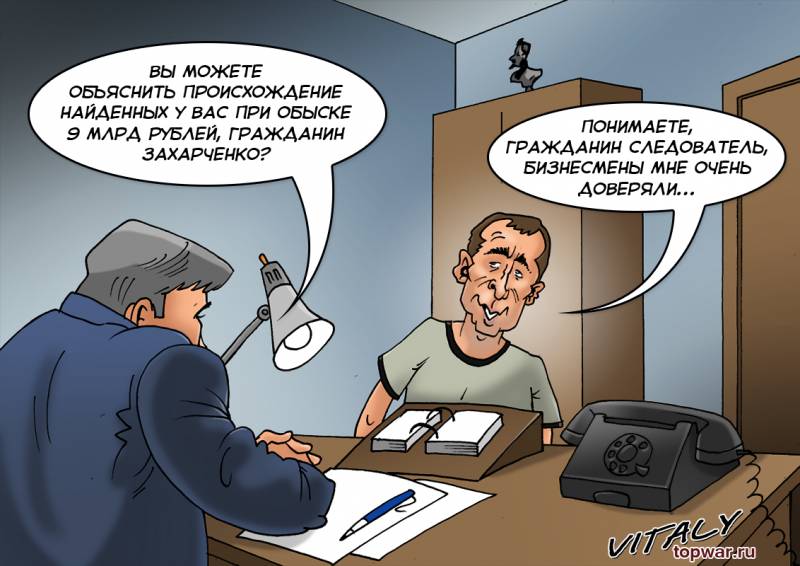 This was done not just like that, but as part of a list of instructions whose implementation should accelerate the growth of the Russian economy. According to our economic bosses, in order to accelerate economic growth, we lack precisely the trust of the business community and comfortable working conditions for it. In particular, in the framework of creating these comfortable conditions, it was entrusted with revising the sanitary and epidemiological standards that should guide business in its work. And then the current standards are outdated, it's hard to work on them, there are a lot of checks, entrepreneurs are indignant ...
In general, it is noticeable that the government is seriously thinking about accelerating economic growth. True, looking for him is not quite where it is usually customary to do, but this is already particular. Moreover, a quarter of a century of "inflation targeting" has not brought much success and it's time to try something else - maybe a quarter of a century you can do nothing, just edit the rules and dream of trust ...
Nevertheless, we will not slip into a dense denunciation and help our government understand the problem in its entirety. After all, as readers like to repeat, "criticize - offer."
Dear Dmitry Anatolyevich ...
First of all, dear Dmitry Anatolyevich, I would like to note that it's quite naive to ask those who for many years of their work have not been able to achieve public trust about how they can achieve this trust now. Rather, something else would work, namely the dismissal of people who do not inspire confidence among our entrepreneurs. However, I myself am not sure that this is so good - in particular, the FSB works very well for us, and I'm not sure whether it is worth changing a very competent Bortnikov for the sake of the trust of our businessmen.
In general, if you want to achieve the confidence of entrepreneurs in law enforcement, then you need to ask, of course, the entrepreneurs themselves. It is clear that they will immediately become like an old woman who wants the Goldfish herself to be on her premises, but this is a separate issue ...
Also, dear Dmitry Anatolyevich, it should be noted that entrepreneurs are well aware of the work of law enforcement, and the existing distrust did not arise from scratch. Therefore, no cosmetic changes will help here, even if you make the police powder and wear wigs with letters. Here, systemic changes are needed, and most importantly, it is necessary to ensure that law enforcement officers are engaged in what is prescribed by law, and not protection, business squeezing, bribery and tossing drugs to those who do not want to share with them.
Yes, Dmitry Anatolyevich, entrepreneurs know about this side of the activities of many (we will not speak for all, of course) law enforcement officers from the first, as they say, hands, constantly confronted with the need to "bring this, give it, don't forget it." And no matter what you do now, no matter how broadly they smile at them, they will never respect the one who just robbed them for a certain amount.
In general, relations between business and law enforcement agencies are in many ways similar to relations between sheep herds and cattle dogs - on the one hand, wolves are an alternative to dogs, and on the other hand, dogs also like lamb. Therefore, strictly speaking, there is no fundamental difference for the sheep - the wolf will yell into the throat or the shepherd will slash it with a sharp knife, the end is still the same. Now, if the matter was limited only to a haircut, and in our case taxes and official fees, the situation would have changed. But for now, we see an order to "make proposals" addressed to law enforcement officers themselves. Well, blessed are those who believe ...
Actually, the root of the problem lies in the fact that a lot of law enforcement officers are involved, in addition to protecting these very rights, with a host of various kinds of unseemly cases. As they say, "they gave a gun, and spin as you want." Do not believe? Then just remember the colonel-billionaires Zakharchenko and Cherkalin, who represented exactly the most interested departments, the Ministry of Internal Affairs and the FSB, and much will become clear to you. And it is precisely against this that you must fight, it is this resource of gaining trust that is the most relevant and completely win-win.
But you can, of course, rearrange the chairs in the regional police departments or oblige the police to pour hot coffee to business visitors - it's also a method ... True, you can doubt its effectiveness beforehand, but it's good for reporting, you'll check it out at home ...
Black Lists of Judges
About our judicial power, as about the dead, or good, or nothing. Therefore, I will not talk much about her. I'll just hint to you, Dmitry Anatolyevich, that when a judge arranges his daughter's wedding for millions of "honestly saved" people, and the authorities refuse to perceive this as something negative, the credibility of such judges will not be very high.
Alas, Dmitry Anatolyevich, the persistent expression of "judicial arbitrariness" arose in our country not from scratch. And to demand from people respect for those who themselves do not really care about him is a futile business. Although it is precisely here, in the judicial system, that probably one of the keys to the trust you want is hidden.
The fact is that the arbitrariness of the security forces would be almost impossible if they did not have the possibility of collusion with the judges. Corruption in law enforcement agencies, prosecution of entrepreneurs, "squeezing" of their property and business are possible only with the tacit (and usually mercenary) connivance of the representatives of the judiciary. Restoring order in the judiciary will automatically reduce the severity of these problems at times, or even an order of magnitude. And then it will really be possible to talk about trust.
By the way, against this background, the business ombudsman Boris Titov was noted as an unexpectedly interesting initiative, proposing to create "black lists" of judges who noted very controversial decisions against business. Although I am extremely skeptical of this figure, I must now admit that there is some sound grain in this initiative. Yes, it's just grain, because such "black lists" are needed across the entire spectrum of judges 'activities, including those related to criminal arbitrariness, civil proceedings, and so on. But in any case, an independent assessment of the activities of judges is needed. Need like air!
So why not really start with what Titov suggested? And why should these lists, having checked them accordingly, not put later on the president's table so that he makes appropriate personnel decisions? In the end, if there is no positive personnel selection, a negative one inevitably appears there, giving us judges making a career in the five-year period from absolute beginners to members of the presidium of regional courts.
Good thing is trust. And it is very cool that the second person in the state cares about having more, so that everyone gets it like the sun. But nevertheless, it should be remembered that trust is a very capricious thing, it is very easy to lose and very difficult, almost impossible, to achieve rearrangement of chairs.