The logistics support vessel of the 23120 project Vsevolod Bobrov, which is being built at the Northern Shipyard, is getting ready to move in the crew. This was reported by the press service of PJSC "Severnaya Verf".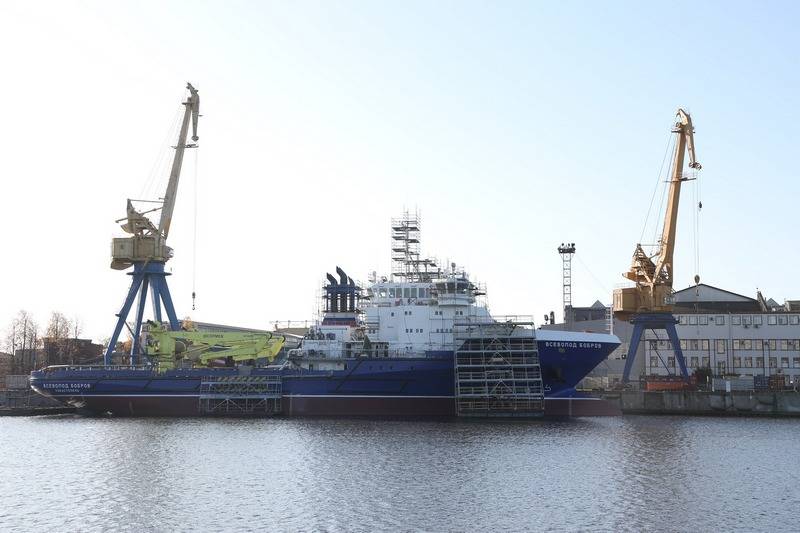 According to a popular report, the ship continues to sew rooms, cabins and cockpits are equipped with furniture, special equipment is installed in the medical unit. Vsevolod Bobrov received fuel, tests are carried out for the thermal fluid boiler and emergency diesel generator, the tanks are finished painting, their leak tests are carried out, test runs of fans and pumps are carried out.
Vsevolod Bobrov is the second logistic support vessel of the 23120 project. Ice class vessel, laid in the 2013 year and launched in the 2016. This is the second ship of such a project, being built at the Severnaya Verf shipyard, after the head Elbrus, and the first production ship.
The logistics support vessel of the 23120 project is intended for the transportation of goods, towing, hydrographic surveys, and assistance to ships in distress. Dynamic positioning system allows you to hold the ship at a given point in any weather conditions. The ship has two electro-hydraulic cranes with a lifting capacity of 50 tons, towing winches with a pulling force of 120 and 25 tons, a cargo deck with an area of ​​more than 700 sq. m. Unlike the lead ship, the deck is strengthened on Bobrov, the ship will be equipped with additional devices, including a grab for loading bulk cargo.
The vessel is multifunctional: it can carry out loading, transportation and transfer of goods; due to the powerful power plant tow ships, up to the aircraft carrier; participate in rescue operations and provide medical assistance to those in distress (the vessel is equipped with a pressure chamber for decompression); conduct mapping of the bottom topography and search for sunken objects. The hull of the vessel with the ice class ARC4 will allow it to sail in arctic latitudes, overcoming the thickness of ice in 0,6 m.
Length - 95 m; Width - 22 m; Draft - 9 m; Speed ​​- 18 nodes; Displacement - 9 500 t; Cruising range - 5 000 nautical miles; Autonomy - about 60 days;