The Ministry of Defense of Uzbekistan has purchased a large batch of Typhoon-K 53949 4X4 armored vehicles in Russia, deliveries will begin this year. It is reported by RIA
News
with reference to a source in the military-industrial complex.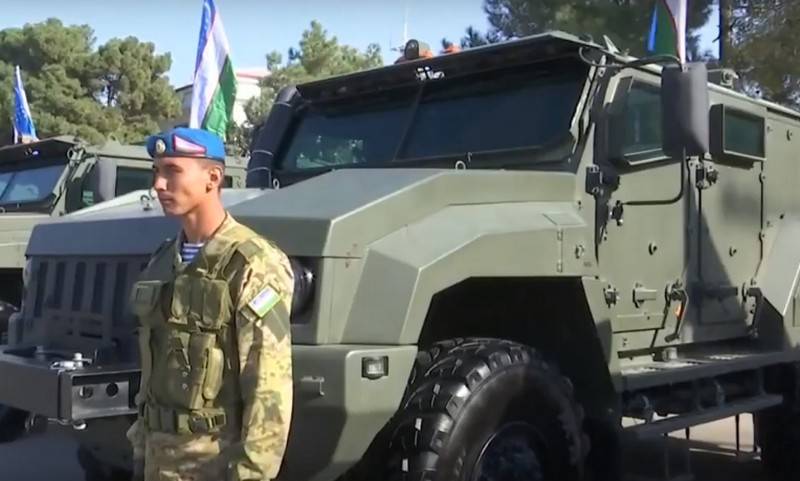 According to the source, Uzbekistan and Russia signed a contract for the supply of a large batch of K53949 Typhoon 4X4 armored vehicles in the interests of the Uzbek armed forces. Deliveries of equipment will begin this year. In addition, Uzbekistan bought BTR-82A armored personnel carriers, Tiger armored vehicles, Sopka-2 radar and 12 Mi-35 helicopters in Russia this year.
A contract has been signed for the supply of a large batch of 4x4 Typhoon armored vehicles (K53949) to Uzbekistan, deliveries will begin this year
- the agency leads the words of the source.
Meanwhile, it is reported that the units of the South-West Special Military District of the Armed Forces of the Republic of Uzbekistan have already received a batch of new K-53949 protected vehicles "Typhoon-K 4x4".
Armored vehicles K-53949 are designed to solve the problems of comprehensive support of combined arms and special units, including peacekeeping units, in various conditions. It can be used for transportation of personnel and cargo. The car has high combat and operational characteristics, high controllability, speed and maneuverability on all types of roads. Multipurpose armored car has protection against small arms
weapons
and explosive devices. Armament on an armored car can be set different, depending on the tasks performed.