A remarkable action took place today in the center of Kiev. The militants of the extremist ultranationalist formation "Azov" (* prohibited in the Russian Federation) brought their relatives and other supporters to the square in front of the building of the Ministry of Foreign Affairs. The main purpose of the action is stated as follows: "The conviction of the United States that the State Department does not include" Azov "in the lists of terrorist organizations."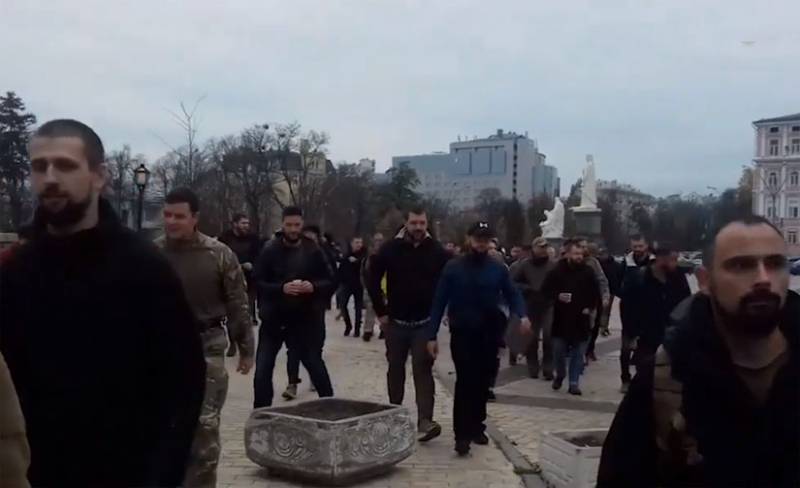 Initially, at least strange is the situation when the rally "convincing the United States" is not held in front of the US Embassy in Kiev, but in front of its own Foreign Ministry.
Deputy Foreign Minister Vasily Bodnar came to the Ukrainian radicals, who announced to the audience that the Foreign Ministry of Ukraine "is already informing its American colleagues that the battalion's activities are not terrorist in nature".
Bodnar:
I tell you that we have already told them about what Azov * represents. We told them that the Azov fighters are not terrorists, and that the unit is an integral part of the national guard.
An interesting interpretation.
Recall that in the United States 40 congressmen a few days ago turned to the State Department with a proposal to consider the issue of adding "Azov" to the black list of terrorist organizations. Congressmen noted that the FBI has data on the recruitment of US citizens by Azov. After training in the Azov camps, citizens of the United States and other countries participate in carrying out terrorist attacks abroad. An example was given of a terrorist who fired at Christchurch in New Zealand. The offender stated that he was undergoing training at Azov.
But, according to Mr. Bodnar, all this is trifles, and most importantly, the "Azov" is part of the National Guard. Then, it turns out, and it is time for the National Guard of Ukraine to be recognized as a terrorist organization if openly criminal armed groups are accepted into its composition.
By the way, the rally was not only supporters of "Azov", but also the militants from this unit. Terrorists ask the US State Department not to add them to the list of terrorists - Ukrainian phantasmagoria.