On Chinese television, an interview with the pilot of the latest Chinese fighter J-20. We are talking about a military pilot Li Gang, who was the first to pilot a fifth-generation fighter (according to Chinese classification - fourth) in the PLA Air Force.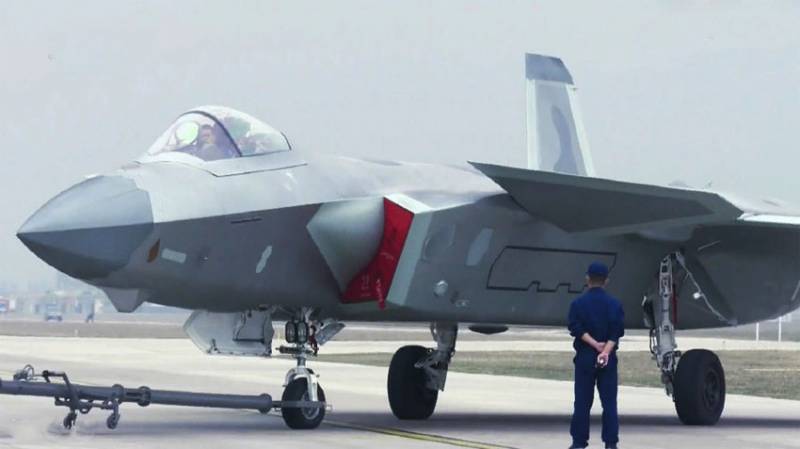 Li Gan noted that he was proud of the status of the first Chinese pilot to fly the latest combat vehicle adopted by the country's air force. He talked about the features of J-20.
According to the pilot, the fighter is substantially modified in comparison with the prototype, which first flew into the sky a few years ago. Li Gan says that "the fighter's maneuverability is developed, flight and weapon control parameters are improved." The pilot noted that the most difficult thing for him is piloting the J-20 in a group, when, for example, preparations are under way for participation in a military parade. According to the military pilot, one often has to maneuver in order to prevent collisions with birds, which are very numerous in the sky over cities.
The Chinese officer considers the fighter unpretentiousness to the advantages of J-20. According to him, the new-generation Chinese fighter does not need to be kept in special tanks with constant temperature and humidity, as, for example, the American F-22.
From the interview:
The significance of this in a real battle is very important: if your stealth fighter every time needs a long-term specialized service before each operation, including the restoration of stealth coverage, then the speed of such an operation and its effectiveness may be low. Our aerodrome technical staff prepares J-20 fighters in a short time. The J-20 stealth coating does not require special containment conditions.
In addition, the Chinese pilot noted the "high-quality aerodynamic layout" of the fighter.
Recall that in the world so far only three countries are creating their own 5 generation fighters: the USA, China and Russia. At the same time, the fifth generation fighters are armed with the Air Force only in China and the United States.