US naval forces replenished with another warship. In the city of Burns Harbor, Indiana, the ceremony of putting into operation the ship coastal zone USS Indianapolis (LCS 17). It is reported by the command of the American
fleet
.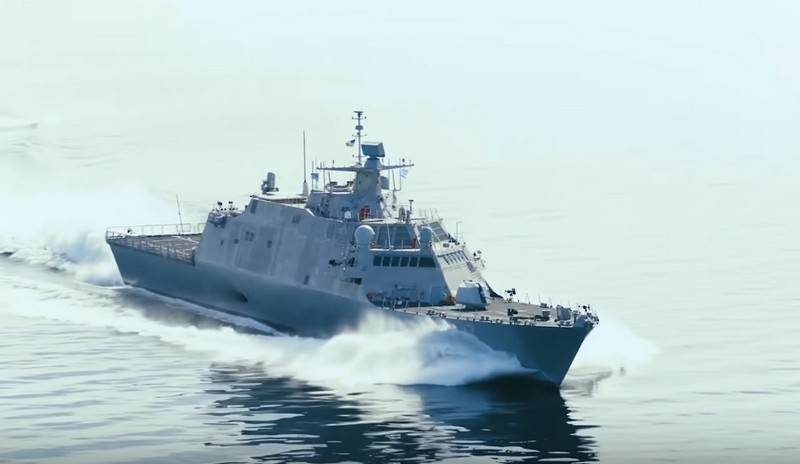 The US Navy commissioned the latest USS coastal ship Indianapolis (LCS 17). He is the seventeenth ship of this class and the ninth type of "Freedom". Ships in the US coastal zone are available in two versions: the first (Freedom type) is a high-speed single-hull ship developed by Lockheed Martin Corporation, the second (Independence type) is a trimaran developed by General Dynamics Corporation.
The ship was laid down on 18 on July 2016 of the year at the Marinette Marine shipyard in Marinette, Wisconsin. Launched on 18 April 2018 year.
Full displacement - 3500 tons. Length 115,3 meters, width 17,5 meters, draft 3,7 meters. Speed ​​45 knots. Engines: 2 gas turbine engine Rolls-Royce MT30 36 MW; 2 diesel engine Colt-Pielstick; 4 Rolls-Royce. Total power 36 MW.
Cruising range declared in 3500 miles on 18 nodes. Autonomy - 21 day. Crew: from 15 to 50 people of the main crew, during the deployment of the crew 75 people.
In the arsenal of the ship: Anti-aircraft artillery: 1 × 1 57-mm BAU Systems Mk 110 missile systems, missile weapons: 1 × 21 air defense systems RIM-116, anti-submarine weapons: Honeywell Mk 50 Torpedo, as well as four 50-mm cannon missiles, missile system with modular universal-based PU NETFIRES PAM. The configuration of weapons may vary depending on the tasks.
В
aviation
The group includes 2 helicopters MH-60R / S Seahawks and one UAV MQ-8 Fire Scout.
The main purpose is to act in coastal waters and shallow areas of the sea in order to ensure the safety of navigation in its own coastal zone, as well as in the most important areas of maritime navigation.