The US Air Force has adopted a new drone RQ-180, designed to conduct reconnaissance in areas with restricted and prohibiting access and maneuver (A2 / AD). As he writes
"NPlus1"
citing Aviation Week, the U.S. Air Force received seven new drones.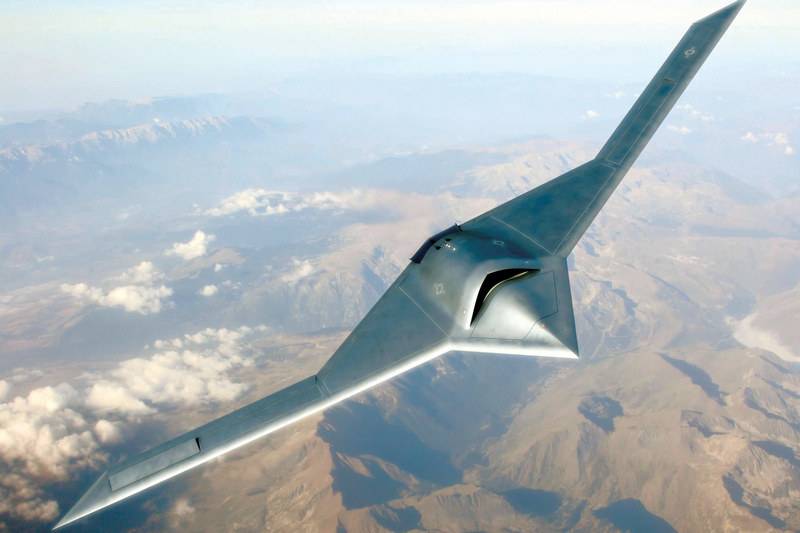 One of the alleged images of RQ-180
The latest Northrop Grumman RQ-180 drones are classified and therefore there is little information about them. It is known that the development was started after the 2005 year, the device made its first flight in the 2010 year, and from the 2014 year the tests of this drone were conducted. Presumably, the RQ-180 with a fuselage length of 10 meters has a wingspan of 40 meters. The main mission is to conduct reconnaissance in the face of opposition from the enemy, which has a developed air defense and air force system. It was stated that it was possible to stay in the air for 24 hours at an altitude of up to 18 km.
Apparently, the new drone is a development of the J-UCAS project, over the implementation of which the Navy and the US Air Force have been working since the early 2000s. The goal of the J-UCAS project was to create a single unmanned platform that would satisfy both the fleet and
Aviation
. At the very end of 2005, this program was divided into two parts - the secret air force and naval UCAS-D. Perhaps the RQ-180 is the brainchild of this secret program.
To date, the Air Force has seven newest drones, all of which are assigned to the 472th reconnaissance squadron of the US Air Force at the Beale air base in California. RQ-180 is designed to occupy a niche in intelligence operations, which until 1999 years occupied the supersonic reconnaissance aircraft SR-71 Blackbird.