Serbia would like to have the Russian C-400 anti-aircraft missile system in service with its army, but so far it cannot afford it. This was stated by Serbian President Alexander Vučić.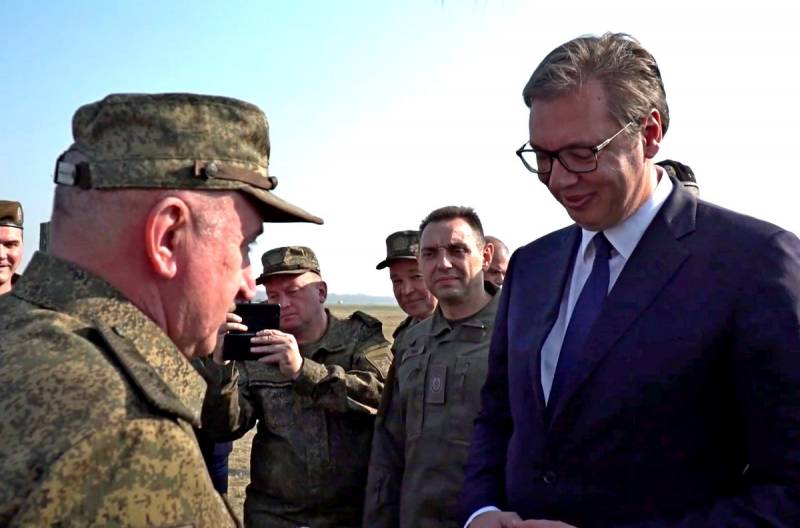 The President of Serbia on Friday visited the Bataynitsa military airfield near Belgrade, which hosts the second stage of the Russian-Serbian exercises Slavic Shield-2019. Vucic got acquainted with the work of the calculations of the Russian S-400 air defense system and emphasized the desire to have such complexes in service with his army. According to him, Russian S-400 air defense systems can guarantee the protection of airspace. At the same time, he confirmed the purchase by Serbia of one Pantsir-S air defense missile system and regretted that currently Serbia was not in a position to purchase C-400.
When people ask what we would like - we would now like to allow ourselves to have C-400. But only if the Russians leave him to us, otherwise we cannot afford C-400. These are systems that guarantee security for your people and your country, for future generations, and if we can afford it one day, we will do it
- quotes the words of the Vucic Ministry of Defense of Serbia.
Earlier, the Russian Ministry of Defense announced the transfer to Serbia of the S-400 anti-aircraft systems battalion and the Panzir-S anti-aircraft missile-gun systems to participate in the second stage of the Slavic Shield-2019 air defense exercises of the two countries.
As it became known today from the message of the Russian military department, the calculations of S-400 air defense systems deployed the complex on the territory of the Bataynitsa airfield as part of the exercises, thereby completely covering the capital of Serbia and the central industrial region of Serbia from an air attack. On the part of Serbia, the exercises involved the calculations of the Neva-M1T and KUB-M anti-aircraft missile systems of the Air Force and Air Defense of Serbia.