The United States nearly lost one of the Doomsday aircraft. As he writes
Popular Mechanics
, In early October this year, the E-6B Mercury repeater aircraft made an emergency landing due to a bird falling into one of the engines.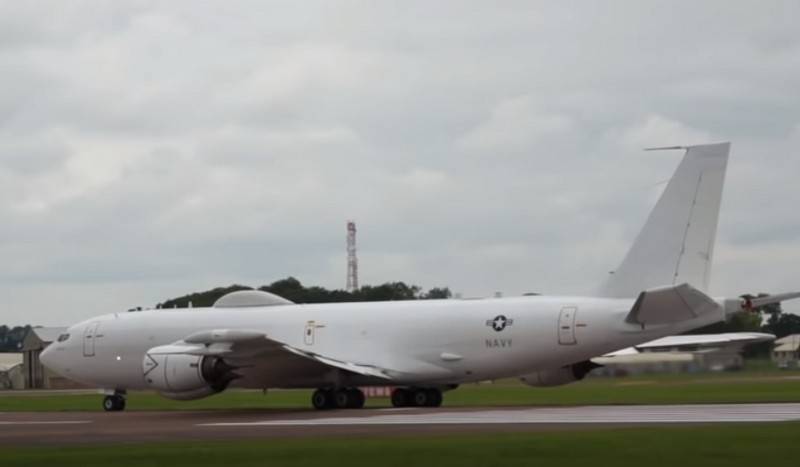 According to the publication, the incident occurred in early October in Virginia at the US Patuxent River Air Force Base. The plane taking off from the air base was forced to return due to the failure of one of the four engines. After landing, it was found that the cause of the accident was the entry of birds into the air intake of one of the engines.
The US Navy command classified this incident in the highest category, assigning it the category "Class A incident", i.e. as an accident with damage in excess of 2 million dollars. According to the BBC, the cost of repairing the engine "will be very high."
Note that the E-6B Mercury repeater is one of the three Doomsday aircraft, along with No. 1 and No. 2. The aircraft has the nickname "Take Charge and Move Out, TACAMO", it was created on the basis of the Boeing 707 airliner and is designed to control submarines with ballistic missiles and ballistic missile ground posts. Since the 1989 of the year, the U.S. Navy has been armed with 16 of such aircraft, and one of them must always be in the air. The crew consists of 18 people: 5 pilots and 13 operators.
We add that all American Doomsday aircraft have their nicknames. So "board number 1", which in the event of a nuclear war hosts the US President and Secretary of Defense, and which is the command post, has the name "Nightwatch" (Nightwatch). Since the 1974 of the year, the US Air Force has four E-4B Night Watch based on the Boeing 747 passenger liner.
Board No. 2, designed to house the Prime Minister, First Lady and Secretary of State, who manages the strategic forces, is called "Air Force Two". Since the 1998 year, the United States has been armed with four C-32A aircraft based on the Boeing 757 passenger aircraft.
Last August, the US Department of Defense announced plans to replace all three types of Doomsday command posts with a single platform.