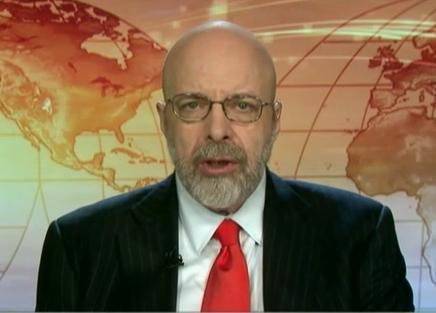 Honestly, the provocation turned out to be base, but in it everything is visible in full view. You simply wonder how, for lack of anything worthwhile, the Westerners
news
agencies pounce on cheap provocation. Honestly, when I first saw this report, I could not help laughing. Fellow journalists from local publications looked in disbelief, is he healthy?
For those who understand English, it's probably enough to watch the video yourself in order to understand how low-grade this "work of art" is. Those who do not know English, the author will try to clarify some points. In general, it must be said that the video presented by SNN is a training manual for amateur provocateurs. Having looked at how this is done and by what arguments one's own nonsense is reinforced, one can say with confidence that the person who is trying to pronounce all this considers the Americans to be complete idiots.
Many people know the person shown in the photo, and we will not give his last name, because the goal of the article is not this person himself or his wonderful last name. Yes, and what's the point of calling, there are many. We are not talking now about his interview, but about the interview in general and how it might look like if the interview is given by an unscrupulous, biased and corrupt person, perhaps even a manager or employee of a foundation. In his eight-minute TV interview, the hero of the interview managed to say a lot, did not have time to just say one thing - the truth!
So, in an editorial under a TV interview, it was said that Russian politicians at 95 percent supported the point of view of the American authorities on Syria. This, of course, is not, but the Americans who heard the interview are beginning to think: "Since Washington's position is supported by Moscow, why are we still not bombing Syria? There is no resolution? So this is trifle! The main thing is Moscow's agreement." So, if the US starts bombing Syria, there will be no problems. And if they do, then: "Oh, those insidious Russians! After all, they were not against it. " It would be interesting to know how the 95 percent figure appeared, where did it come from? Unfortunately, these data are not given in SNN.
The second, very interesting moment of the interview. Israel is very ambivalent about the change of power in Syria, that is, it does not insist on it (oops, whether!). This is the purest water manipulation. Everyone knows how Israel wants to bomb Iranian nuclear facilities. Today, Syria is perhaps the biggest obstacle to the realization of this desire. Does Israel still interfere with this Assad or not?
The next wonderful passage is that Russia does not sell and will not sell
weapon
Syria is not because Vladimir Putin does not want to sell weapons to Assad, but because Syria has nothing to pay for these weapons. This passage is intended to convince the Americans that starting the war against Syria, the United States should not be afraid of the significant capabilities of Syria's air defense, because Russia will no longer supply any weapons, and one would like to recall the biblical "Blessed is he who believes!". After all, Russia pays for the Russian base in Tartus, and could simply supply this money with this money. So, as you can see, you can do without money at all.
But this, as it turned out, is not all. Further, to make this interview seem truthful, an employee of the same foundation or institute adds a little truth. The Russian position on Libya became one after Obama's conversation with Medvedev (where would the Russians go when the "senior ordered"). Medvedev went for it, even realizing that "both the people and Putin will criticize him" (a clear puncture! If 95 is politically sensitive for American interests, who then would criticize Medvedev?).
Further, the reporter asked whether Russia is going to get involved in a fight with the United States because of Syria. The answer was absolutely unequivocally interpreted: Russia is not going to protect the interests of Assad, therefore, if NATO comes to mind to bomb Syria, it does not need a UN Security Council resolution, and Russia should not be afraid either. Bomb for health! Here, even the correspondent was taken aback and said that she saw that in this case Russia gives the green light to the bombardments. The interviewee believes that the "weak Medvedev" then went on about Obama. However, for some reason no one remembers that it was Medvedev who gave the order, as a result of which "timid Georgians fled" in 2008. If Medvedev is so weak and has defeated Georgia with one left, it's scary to imagine what Putin would have done if he were in power. But Putin is now the president of Russia, where does such confidence come from that Russia would not mind if the West "taught" Assad? Yes, there is no certainty, it is a complete linden.
There are, of course, other "pearls" that cannot cause anything but a smile. For example, the English language of this figure. Here, of course, you can defend your doctoral dissertation on the topic: "A wonderful" Russian-speaking "accent for your money." Probably, even Benny Crick's bindjeworkers didn't speak English like that. To the mind, an incomprehensible amount of mistakes and a completely wild accent transforms the interview into a specially encrypted message. Those who did not understand something besides the above, and heard all this trolleywatch, can now think of the rest themselves. If we consider that they will think out in "native" tones for the Western mentality, brought up on provocation of the English-language press like today's interview, we should not be surprised if the consumer of these TV cutlets makes for himself the conclusion: "What are we waiting for? It's time to bomb and overthrow al-Assad. "
And then imagine what a person will think when he learns that the Russian ships of three fleets are going to Syria. "Why do they go there? What game did these damn Russians start? They can never be trusted! The KGB and Putin are to blame for everything. Russia is an evil empire! "
In general, it must be said that the provocation in this interview is not only cheap, but, like all provocations, it pursues certain goals. In this case, some circles need to remove Assad by any means, therefore, throw the Russians out of Tartus and open the road to Iran. To some of these circles, they don't give a damn that if they push the Americans and the Russians together, the citizens of the United States and Russia will die. Interested circles make such provocations not in the name of these two countries, so let them "wet" each other. There is even an opinion that all Gentiles in order exist to serve the interests of certain people.
In fact, this provocation has one single goal, to make Americans believe that the Russians will not oppose the United States in Syria, which means that it is necessary to begin immediately. Then, when it turns out that the Russians are still against, a new provocation will appear, which will convince us that it is necessary not to bow our heads to the perfidious Russians, but to go to the end. That is how they are drawn into the wars of the country. Here, as they say, "servile chubov" is not a pity. Will the Americans swallow this TV cutlet? Be sure to swallow. Do they pay for their gullibility with their lives - of course, pay. This is all, so to speak, predictable consequences.
But what will be the reaction to all this from Russia? It's funny to even hear that 95% of Russians support the White House's aspirations for Syria. Most likely, 95% of Russians are categorically against what the United States is doing in the world in general and in Syria in particular. Perhaps never before in the last 20 years of the newest
stories
Russian-American relations did not have such a gloomy period. A person who gives deliberately false information in an interview looks like a thief who, talking to you and looking directly into your eyes, nevertheless, climbs into your pocket. These are the "TV" and pushing their heads with the army of the two countries. They consider themselves to be clever politicians, but, in fact, they are only "gamblers".
Those who understand and see their cheap feints, of course, know them and the price. The Russian does not need to explain for a long time who climbs into all the cracks and tries to create tension here and there. This greatly hinders those who are constantly caught by the hand. Somehow, in a Russian analytical program, a certain US political analyst said: "The problem with Russia is that Russians are too politicized. What they have to do with foreign policy, while the Americans are interested in something else. Americans need to have the roads repaired to build schools and so on. "
Here it is important to understand that this is not a problem of Russia, that it has such citizens, this is a problem of politicians and political scientists of the United States, that they cannot fool Russians like they fooled the Americans. The fact that Western media outlets are idiots of Americans doesn't even go to the grandmother, and they manage to "push" a lot of American consciousness, but the problem is with the Russians. Russians refuse to consume such a brew. The Russians have a pathological flair and a request for truth, but the Western media are just trying to hide this very truth more deeply. The current interview is a vivid example.