The company Northrop Grumman at the exhibition Association of the United States Army (AUSA) introduced a new automatic gun caliber 50-mm for promising armored vehicles. The novelty is called XM913 Bushmaster.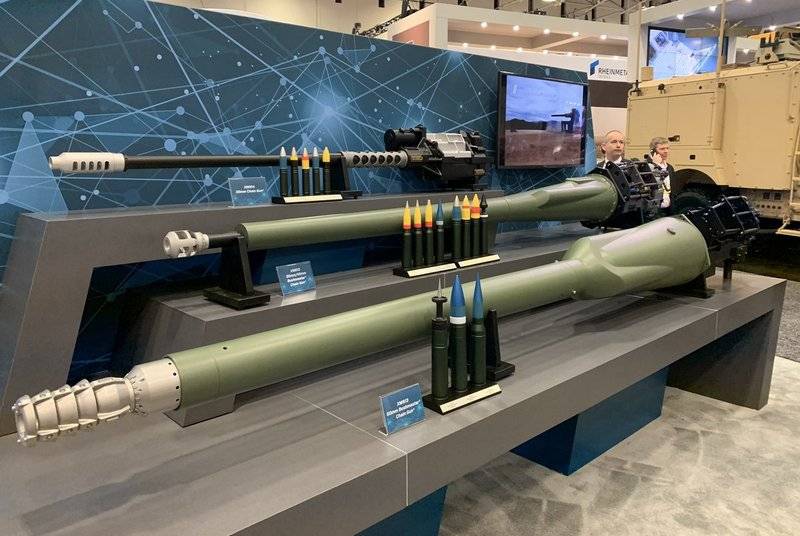 The new development of the XM913 Bushmaster is an 50-mm chain-drive gun that differs from its 25-mm predecessor M242 not only in large caliber, but also in firing range. According to the developers, the new gun is capable of hitting targets at ranges up to 4-km, while the 25-mm M242 fired only at 2 km. In addition, Bushmaster allows you to integrate modern automatic targeting options, improved fire control capabilities and other advanced features into the armored weapons system.
It should be noted that this gun was originally introduced in the first half of April this year, as possible
weapon
to equip promising models of armored vehicles.
Northrop Grumman claims that the new 50-mm cannon will be equipped with the Griffin III armored fighting vehicle (BBM) from General Dynamics Land Systems, a prototype of which has already been demonstrated with these weapons, the German BBF KF41 Lynx from Rheinmetall and Raytheon, the Swedish CV90 in the BAE version Systems
This gun is officially involved in the US Army's NGCV (Next Generation Combat Vehicle) program, and is intended for installation in larger new-generation armored vehicles. It is possible that the XM913 cannon will be installed on the upgraded M2 Bradley and wheeled infantry fighting vehicle XM1296 Stryker Dragoon ICVD, a variant of the Stryker BBM equipped with a turret installation with the 30-mm XM813 "Bushmaster II" automatic cannon.
Thus, it can be assumed that the US Army and its NATO allies will gradually move away from weapons of light caliber 25 - 30 - mm used on light armored vehicles, replacing it with more powerful weapons of the caliber 50-mm.