The international exercises Scutul de Foc 2019 were held in Moldova at the training center of the National Army. In the exercises, in addition to the armed forces of Moldova, the military personnel of the USA and Romania participated.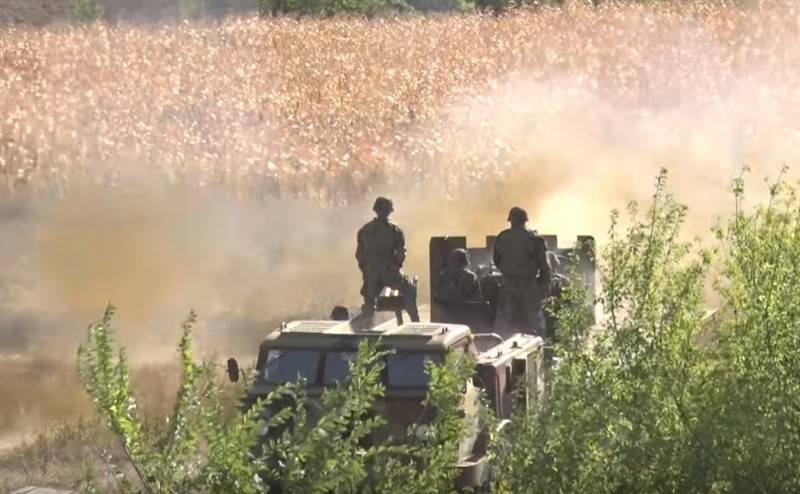 The bulk of the military personnel and military equipment in the exercises represented the Moldovan national army, therefore, the video of the exercises mainly shows Soviet military equipment, including rather interesting specimens, apparently coming from the hands of local craftsmen. We are talking here about the original wheeled self-propelled artillery mounted on the ZIL-135LM chassis. Local experts installed the "hell thresher" - the 57-mm C-60 anti-aircraft gun on the tractor, thereby creating the world's heaviest dumbbell.
If you take a closer look, you can see that the anti-aircraft gun is mounted on the chassis of the 9Т452 transport and loading vehicle from the 220-mm MLRS 9К57 "Hurricane", left over from the Soviet legacy. After the collapse of the Soviet Union, Moldova got the property of one of the regiments, which was armed with the Uragan MLRS and loading vehicles, but over the past time the equipment was either sold out or decommissioned. Apparently the remaining TZM decided to use as a wheelbase for the installation of "infernal threshers". It is not known whether this machine is the only one, or whether the mass production of such artillery mounts has been established in the Moldovan army.
Currently, the Moldovan army is armed with only light armored vehicles - MT-LB, BTR-80, armed with 23-mm guns BTR-60, BRDM-2, and also from the regiment of the Soviet BMD-XNUM Soviet airborne troops stationed in Chisinau BTR-D and 1-mm self-propelled guns "Nona". There are also more than 120 Humvee armored vehicles with 80-mm DShKM machine guns mounted on them.