By the end of this year, the Russian Ministry of Defense will receive 8 Ka-52 Alligator attack helicopters, the transfer of the entire batch is scheduled for December 2019. This was announced by the Managing Director of Arsenievskaya as part of the Unified Day of Military Acceptance
aviation
company (AAK) "Progress" Yuri Denisenko.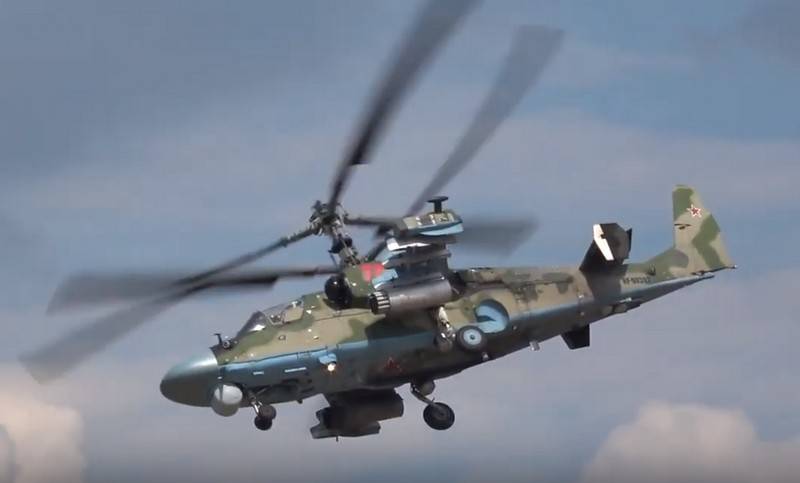 By the end of the year, the Arsenyev Aviation Company Progress will hand over eight Ka-52 attack helicopters to the Ministry of Defense, four of them have already been manufactured, passed all types of state tests and adopted by military representatives. Four more rotorcraft are at the assembly stage, they will be ready for transmission by the end of the year.
Four Ka-52 combat helicopters (...) as part of the state defense order. Helicopters have passed all types of tests provided for by technical specifications and the conditions of the state contract, accepted by the military mission and are ready for transfer to operating organizations
- Denisenko informed.
According to him, the Ka-52 Alligator attack helicopter is combat resistant to enemy weapons, and the helicopter's electronic equipment and weapons "can reduce the helicopter's contact time with the target and reduce its own losses."
Meanwhile, it is reported that as part of the Unified Day of Military Acceptance of the 33-th Separate Transport Mixed Aviation Regiment, deployed at the Levashovo airfield, a heavy Mi-26 helicopter arrived. As said the acting commander of the regiment Alexander Abanin, the resulting military transport helicopter will perform tasks in arctic conditions on the Novaya Zemlya archipelago. "