Somehow it looks like a child's fun with gadgets, even the Americans don't do that at home, but for the natives they'll do it ...
Vladimir 5. 7 March 2019
Weapon and firms.
We continue our acquaintance
with small arms from different companies
based on the design of samples which is the design of the rifle AR-15. Moreover, somewhere they produce these rifles "one to one", making changes only in structural materials, somewhere in some way they change the design, however, not very much, and some manufacturers based on it make their designs, which they then take on weapons are the same Americans.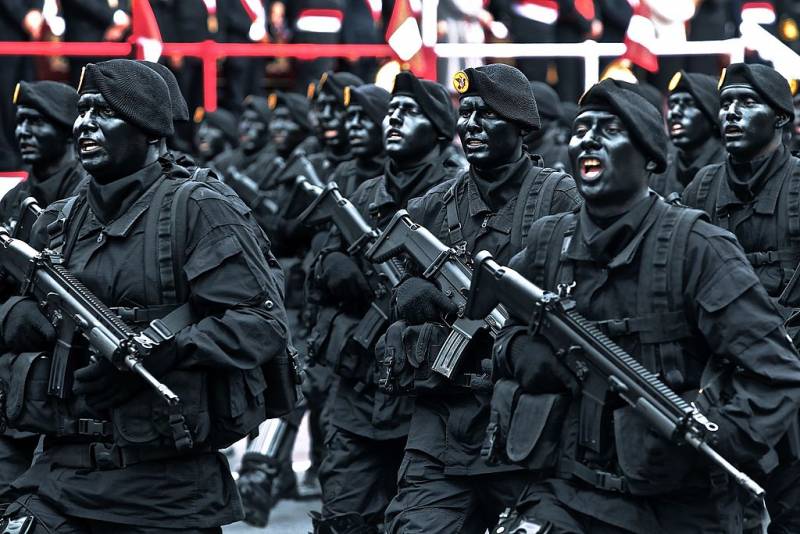 Peruvian special forces soldiers armed with FN SCAR rifles. Horror, and only. Such faces only scare children!
For example, an automatic rifle FN SCAR from the Belgian manufacturer FN Herstal ("National Factory in Erstal"), known for its weapons in Europe for 130 years. Gerstal produces a whole line of AR-15 rifles, as well as many other weapons, but here - bam! - And the SCAR rifle went from her, and the Military Review wrote about her back in the 2011 year (Assault Rifle FN SCAR, 31 on October 2011). Then on "VO" appeared material that the Portuguese army was adopting it ("The Portuguese army is switching to Belgian rifles FN SCAR," 7 on March 2019), and it was in the comments on this material that the statement cited here as epigraph. "Even the Americans don't go for such a thing ..." But they do, it turns out! And she was chosen back in 2008 year! By the way, here's what they write about it themselves: "The FN SCAR was selected in 2004 for Special Forces (SOF) in three versions: SCAR-L Mk 16, SCAR-H Mk 17 and grenade launcher Mk 13. The rifle was selected after a five-week field test conducted at the end of the 2008. These rifles in selected versions began to be exhibited in April of the 2009. On 4 on May 2010, in a press release on the official FN America website, it was announced that the 14 on April 2010 had passed a Memorandum of Understanding for the acquisition of SCAR, bringing the SCAR program to a new level. As for the performance characteristics of the new rifles, then there is nothing particularly surprising. Everything is traditional and quite: Mk 16 has a caliber of 5,56-mm and rate of fire of 625 rounds per minute, and Mk 17 has a caliber of 7,62-mm and has rate of fire of 600 rounds per minute. Weight approx. 3,6 kg empty.
At the end of October 2010, the full-scale production of the Mk 20 sniper variant, which began in mid-May 2011, was also approved.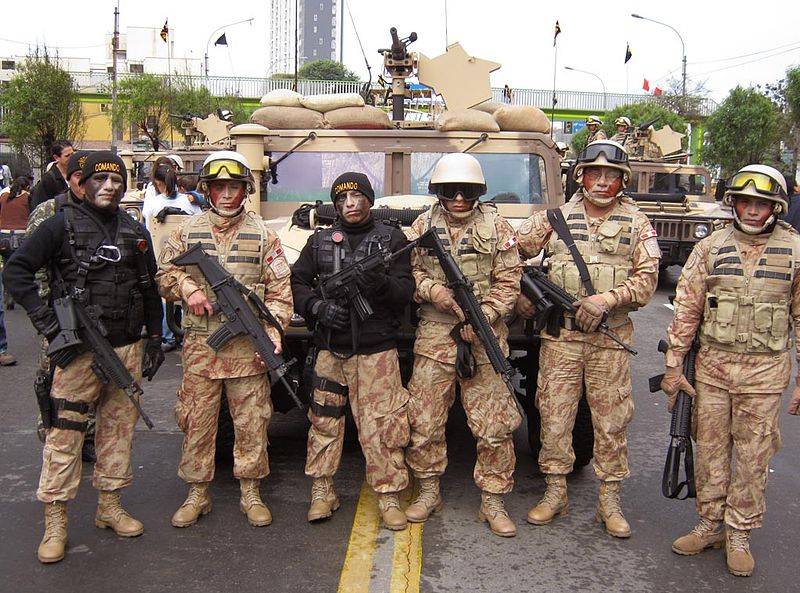 And this is Peruvian again "special forces" in the field uniform. And also with FN SCAR rifles.
On 25 on June 2010, the US Armed Forces Special Operations Command (SOCOM) announced that it would cancel the purchase of the Mk 16 rifles, citing limited funds and the lack of a sufficient difference in efficiency compared to other 5,56-mm rifles to justify the purchase. The remaining funds will be spent on the sniper version of the SCAR-H Mk 17 and Mk 20. By this time, SOCOM had already purchased 850 Mk 16 and 750 Mk 17. SOCOM forced its fighters to surrender their Mk 16, but ... demanded the delivery of conversion kits for the Mk 17 so that it could shoot 5,56-mm cartridges, which a modular rifle system makes it easy to do.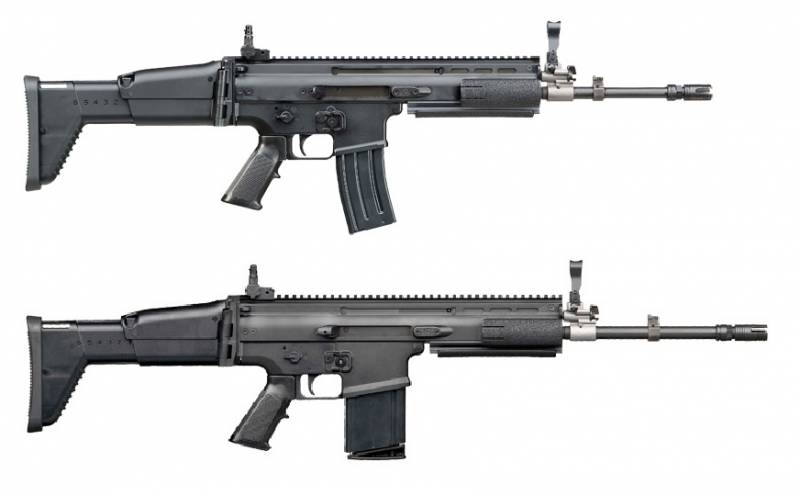 FN SCAR-L (top), FN SCAR-H (bottom). The whole difference in the purely visual order is obvious.
"FN America (a branch of the company in the USA) believes that the problem is not whether SCAR, and, in particular, the Mk 16 variant, is the best weapon system available today. She has already proved this, having recently completed all stages of field trials. The question is whether the requirement to replace 5,56 mm outweighs the many other requirements that are relevant in a tight budget. This is a question that can only be decided by the customer. " A statement by FN America to some extent contradicted the official decision of SOCOM, and it did not cancel it. It was decided to purchase the 7,62-mm Mk 17 rifle, the 40-mm Mk 13 grenade launcher and the 7,62-mm version of the Mk 20 sniper rifle. But the U.S. Special Operations Command confirmed that it had decided not to acquire the 5,56 mm variant of the Mk 16.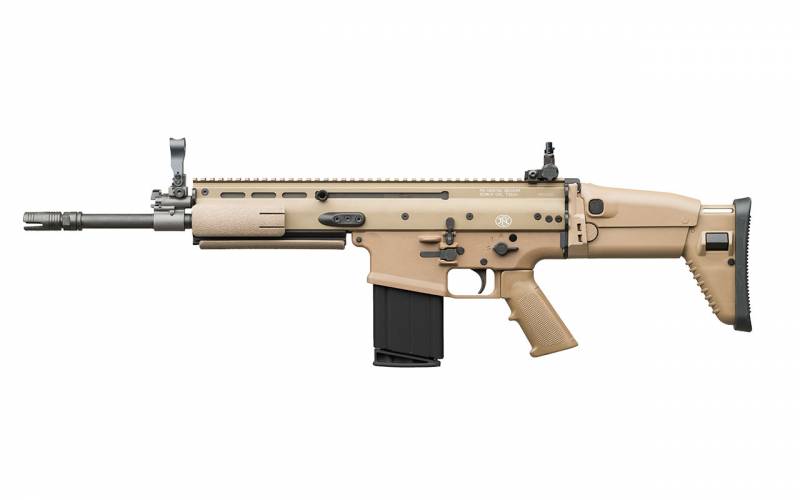 FN SCAR-H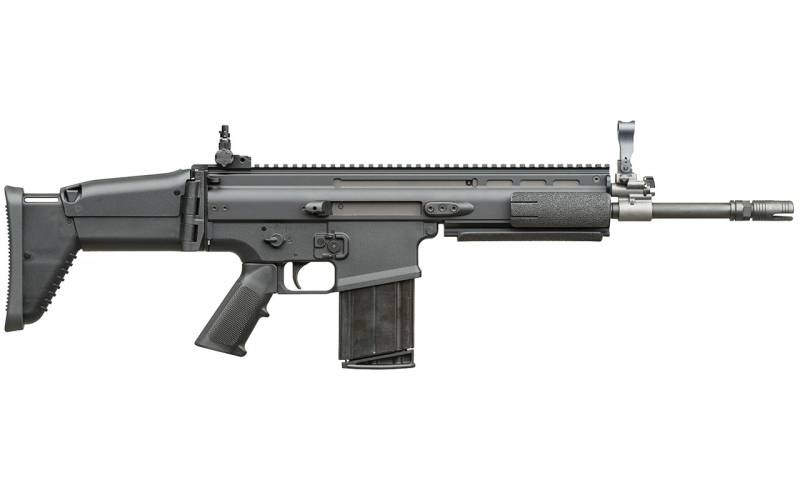 FN SCAR-H traditional black color
To keep SCAR as a small-caliber weapon, it was decided to purchase Mk 17 conversion kits for firing 5,56 × 45-mm rounds. Initially, one rifle was required, which could be adapted to fire cartridges of several calibers, including 5,56 mm, 7,62 × 51 mm and 7,62 × 39 mm. The conversion kit for 5,56 mm cartridges was completed at the end of the 2010 year, and orders for it began in the middle of the 2011 year.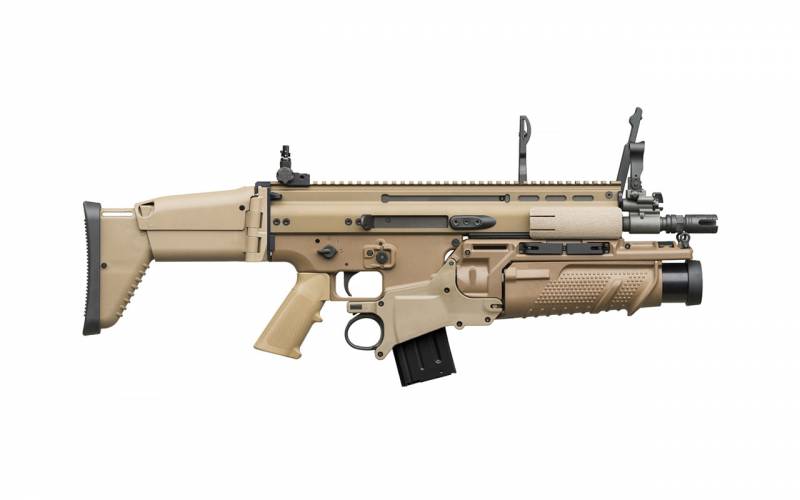 SCAR-L with grenade launcher FN40GL
Also 9 December 2011 year. Submarine warfare unit of the US Navy. W. Crane has released a message about the acquisition over five years of the Mk 16 (SCAR-L), Mk 17 (SCAR-H), Mk 20 (SSR) and Mk 13 (40-mm grenade launcher) company FN for arming its own personnel, which In this structure of the US Army there are 3300 people. Navy Special Operations Forces also purchase their firearms through SOCOM and have acquired more MK 16 rifles than any other unit.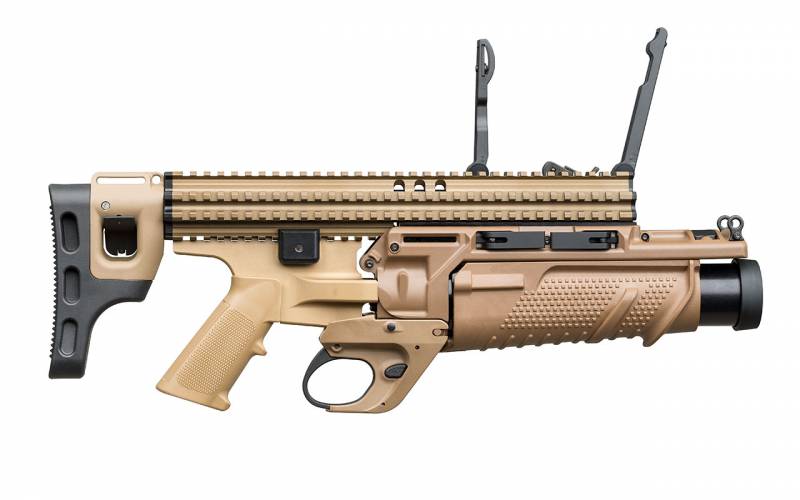 Grenade launcher FN40GL-S-Mk2. As such, it can be used separately from the rifle.
As for the Mk 17 model, it is currently widely used by US SOF forces in Afghanistan, where its positive qualities were noted, such as its relatively low weight and accuracy, as well as the good stopping ability of the bullets fired from it.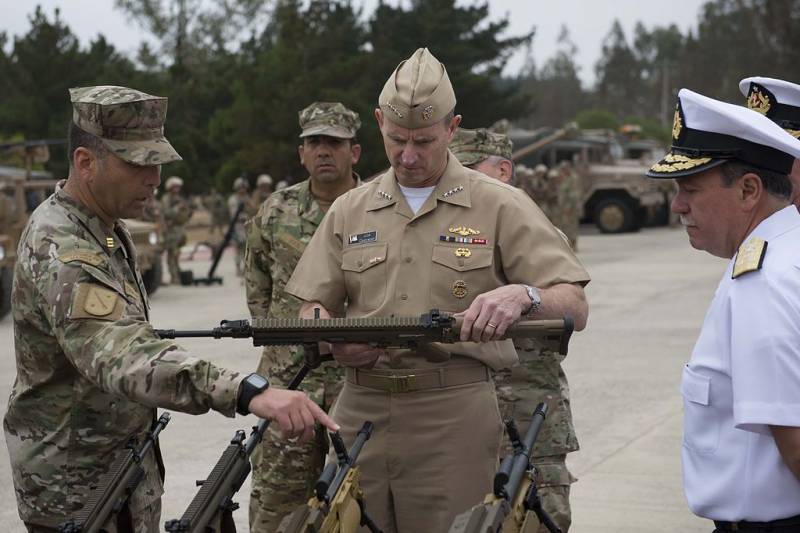 General Jonathan Green inspects SCAR rifles of Chilean special forces
FN SCAR is also available for purchase by civilians in most US states. Some exceptions are the states of New York, Hawaii, Connecticut, Massachusetts and New Jersey, which have more stringent rules regarding semi-automatic rifles. There are also a number of states where you can legally acquire this rifle and own it, but there are restrictions on the number of rounds in the store. To acquire a firearm, the buyer must be at least 18 years old (21 in some states), and he must not have any federal offenses. "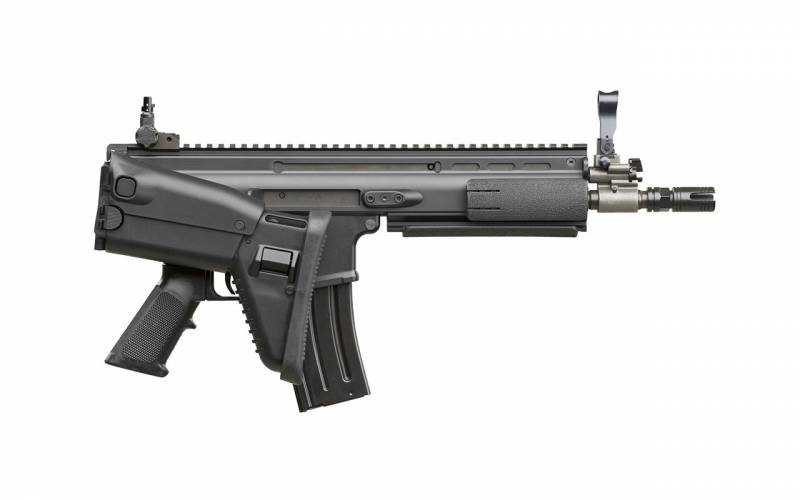 SCAR-L with black coating and folded butt
However, two people also dealt with this rifle at VO: the presenter of the program "Men's Toys", Sergey Badiuk and the expert invited by him Vladimir Titov, who discussed the advantages and disadvantages of the FN SCAR rifle in the video material "FN SCAR for US Special Operations Forces" 15.09.2019 , that is, more recently. So to predict something in our time is a thankless task, or you must have very good sources of information. By the way, judging by the video, Sergei Badyuk is most disliked in this rifle ... "flimsy butt." Neither you stun a person in melee, nor click nuts ... And this rifle does not open glass bottles with beer, and does not cut sausage to him for a snack. Well, there are some screws that can loosen from prolonged use. And it seems to be all the flaws that they both found there. Well, plus a subjective perception: NK416 is better ...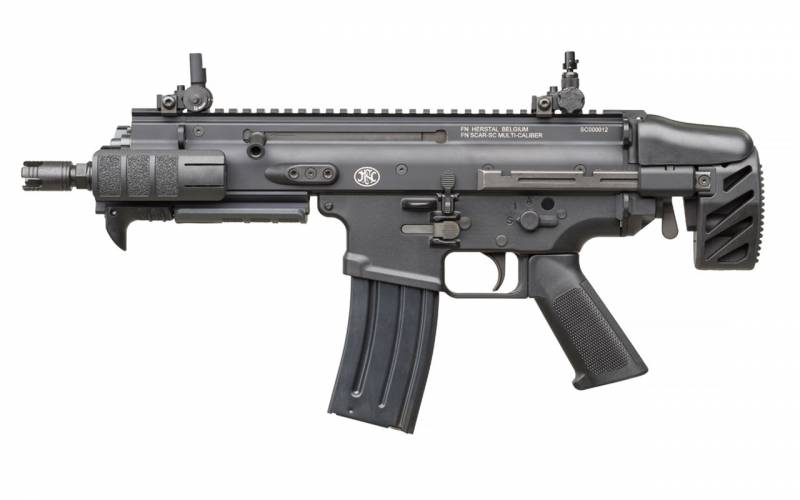 Very "mini" SCAR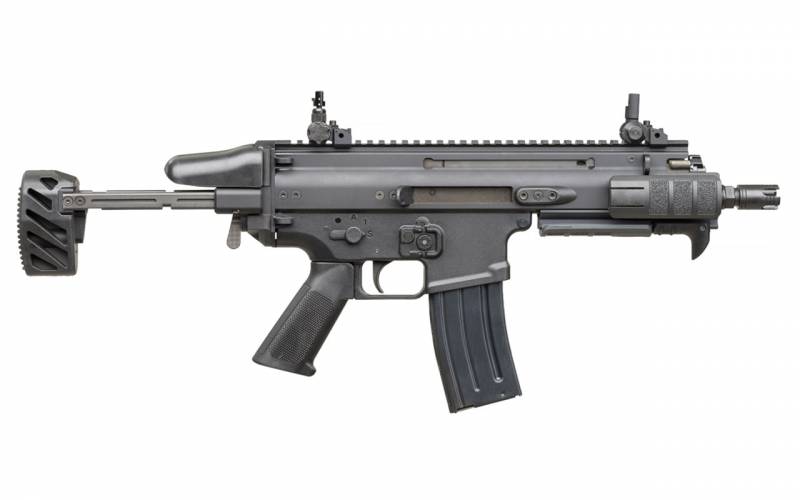 Same thing but butt extended
Well, now let's get to know a little bit
history
this famous Belgian arms company and with those weapons that it produced and produces, including a line of samples originating all from the same "never-ending" American AR-15.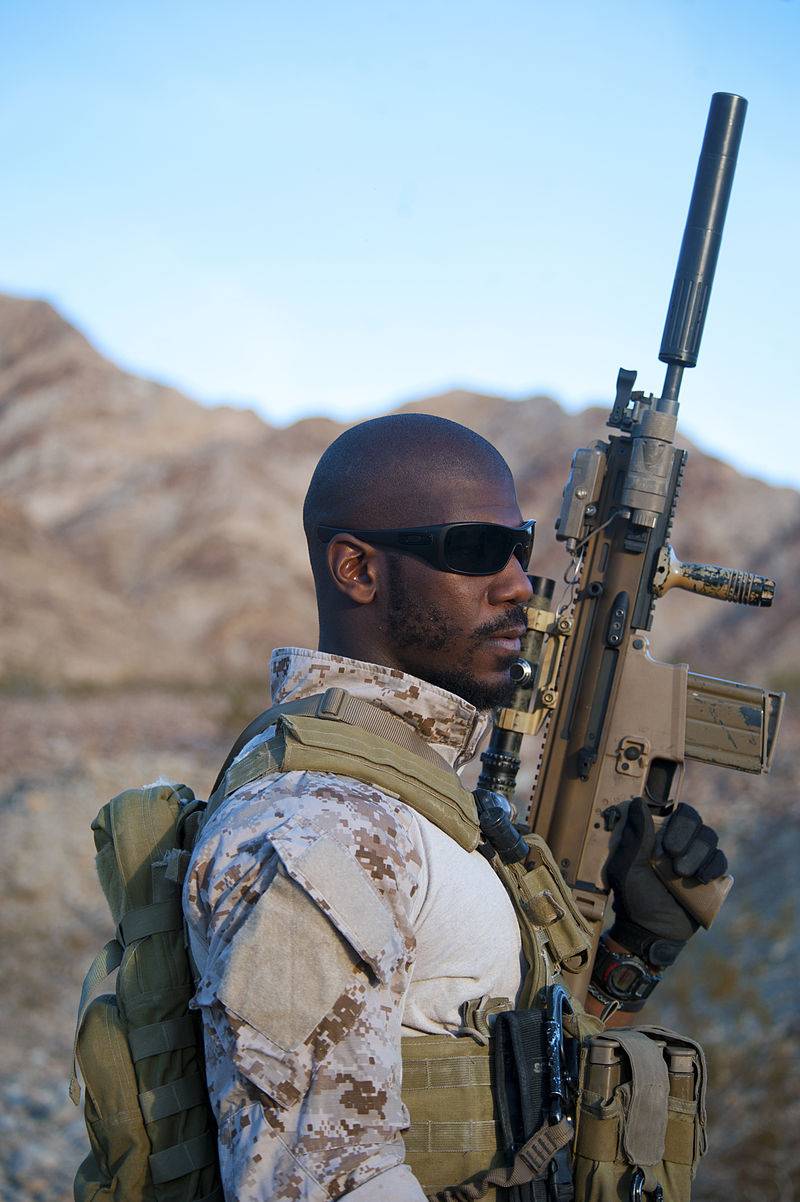 American SEAL fighter with SCAR-H rifle (Mk 17)
The history of the company began in 1889, when an enterprise was set up in the small town of Erstal near Liège to produce modern military small arms, which was reflected in its name: "Fabrique Nationale d'Armes de Guerre" - that is, literally translated: "National Factory military weapons. " Thus, she immediately distanced herself from older enterprises, most often starting with the production of hunting and civilian weapons, and only then, over time, switched to military products. Here, military orders were put at the forefront and the first of them was very large at that time: it was necessary to produce 150 of thousands of Mauser rifles of the 1889 model of the year, which were supposed to go into service with the Belgian army. The company successfully completed this task, received capital, and then, from 1898 of the year, it began to successfully cooperate with John Moses Browning, who created many wonderful small arms for this company.

Rifle fnxnumx
During World War II, Belgium was soon occupied by Germany. Naturally, such a powerful enterprise with first-class equipment and experienced workers was very useful to the Wehrmacht. Fabrique Nationale therefore immediately received many new orders and began to work for the German authorities. This company produced only pistols from 1940 to 1944 for the Wehrmacht in the number of 363 200 copies. First of all, these were the FN Browning pistols of the 1922 sample (an improved version of the Browning pistol of the 1910 sample) and the famous "Browning Highpower". By the way, during the period from 1940 to 1945, the German Walter plant in Thuringia produced only 84 000 pistols such as pistols of the Walther PP model and the 26 000 of the Walter PPK model. So the military aiding Nazism on the part of the company was obvious and highly effective for both sides.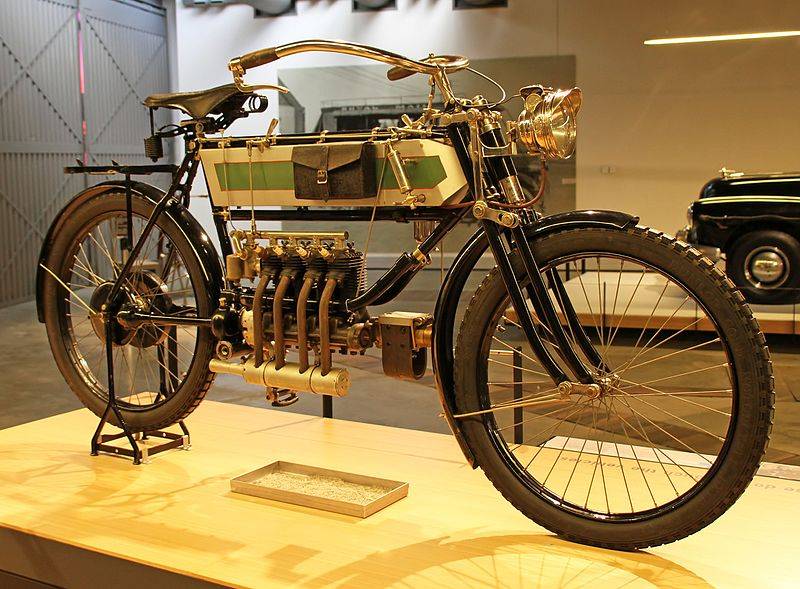 FN 1906 motorcycle year of manufacture
And since the beginning of the XX century, FN produced not only weapons, but also motors, motorcycles and cars. The first motorcycle here was released back in 1902, then new models began to be thrown onto the market almost every year, and so on until the outbreak of the war. Moreover, the production of motorcycles continued in the post-war period and went on until the 1965 year, and trucks were completely produced before the 1970.

Famous rifle FN FAL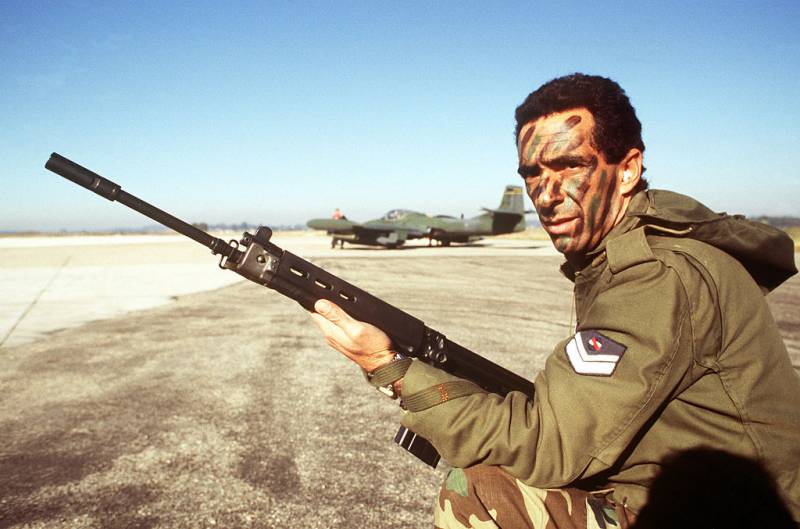 Uruguayan army sergeant with FN FAL rifle
So FN for Belgium was a truly unique enterprise, providing countries with motorcycles, and cars, and ... weapons. But large orders of weapons from NATO put an end to the peaceful products of this enterprise. And these orders were so large that the company began to expand and today it has a large branch in the United States, where the American M16 rifles and ... Belgian M240 machine guns, as well as pistols and a number of other small arms are manufactured for the needs of the American government.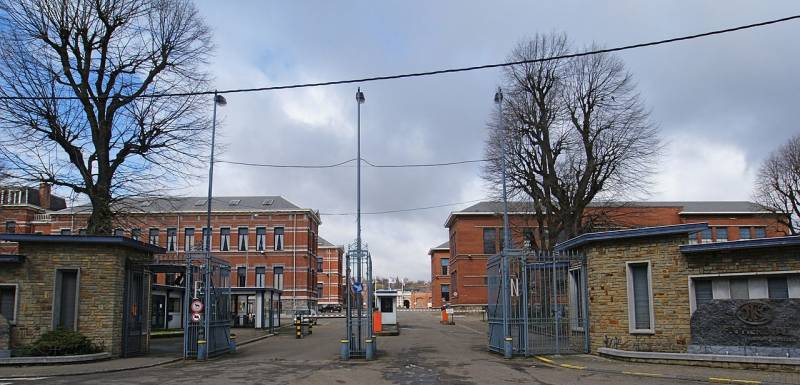 Checkpoint factory in Erstal today
To be continued ...