Russian Ministry of Defense celebrates 75 anniversary of the capital of Latvia - Riga
Special section
which posted declassified
historical
documents from the funds of the Central archive of the military department. This was reported by the press service of the military department.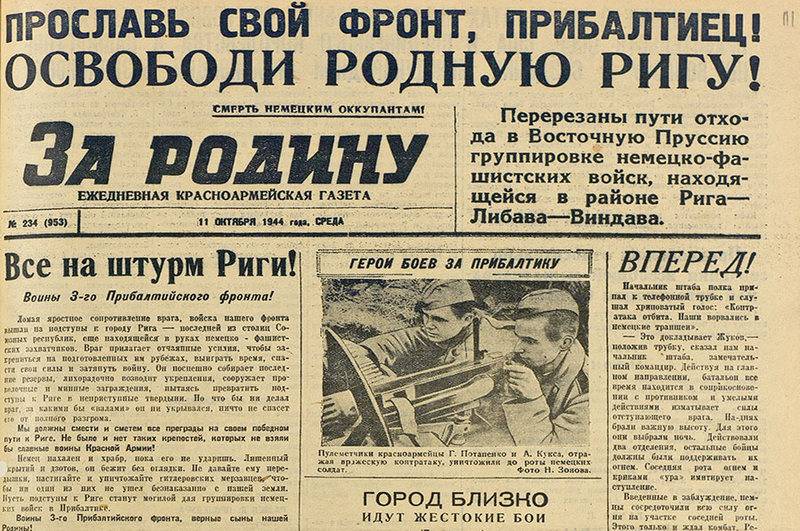 The Ministry of Defense has opened a special website, by visiting which visitors can get acquainted with declassified documents related to the liberation of the Latvian Soviet Republic from Nazi invaders. On this portal you can see the offensive plans, reports and summaries, newspaper publications and many other archival documents showing a picture of the fighting for Riga in October 1944.
It should be noted that in 1944 the inhabitants of Riga and other cities and towns of Latvia met the Soviet liberators with flowers and smiles, thanks to the liberation of the Nazi occupation from hell.
However, modern and "independent" Latvia does not intend to remember its history and honor the Soviet soldiers who laid down their lives for its liberation from fascism. The current authorities of the country declare that there was no liberation in 1944, but that the occupying power only changed, when the Soviet occupiers replaced the German invaders.
In July of this year, the Latvian Foreign Ministry issued an official appeal in which it stated:
We would like to remind the world that the freedom and independence of Latvia, Lithuania and Estonia were restored 45 years later, since the entry of the Red Army meant the resumption of the Soviet occupation
Despite the protest of the Latvian authorities, celebrations will be held in Russia in honor of the Soviet soldiers who liberated the Latvian Soviet Republic 75 years ago. On October 13, on the day of the liberation of Riga, a festive firework dedicated to this event will take place in Moscow.