There were shots with graphics of a unique ocean freight ship, which is designed to transport the promising European launch vehicle Arian-6. We are talking about the ship, which was called "Canopy". It is owned by Alizés.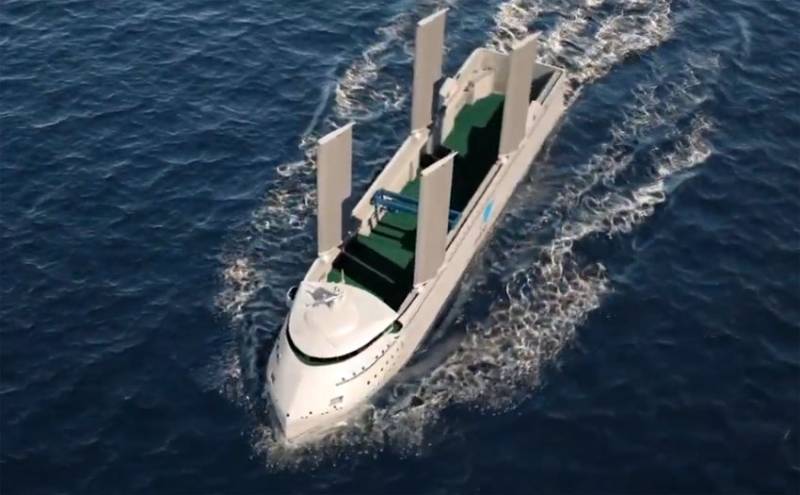 The name looks extremely original. It refers to the ancient Egyptian ritual vessels, in which a special composition was stored organs extracted from the bodies that were deceased during the mummification. In Russian, the word "canopies" is used, which comes from the corresponding ancient Greek term. Typically, ancient Egyptians applied canopies to the image of the person to whom these organs belong.
The Canopy vessel has a length of 121 m and a width of 23 m. Particular attention is paid to its power plants. This is an 4 engine. According to recent reports, they operate on several types of fuel. This can be either diesel fuel or liquefied natural gas (LNG). Power is 2300 kW.
The uniqueness of the vessel also lies in the fact that the Canopy is additionally equipped with 4 original sails on a rigid base with a streamlined drop-shaped (variable) shape. At the same time, solar cells are partly elements of such sails. This design has a very impressive area - about 375 square. m, allowing you to save up to 30 percent of fuel while driving and additionally generate electricity.
Cruising speed during transportation of structural elements is 16 nodes.
The first launch of the Arian-6 European launch vehicle from the Kourou launch site in French Guiana is scheduled for 2020. A rocket will be delivered to Kura. The project is being implemented by the European Space Agency (ESA) and the total implementation cost is 4 billion euros.
A few days ago, the ESA showed footage from the launch pad in that same French Guiana, where preparations are underway for a future launch. The booster rocket should put into orbit three dozen OneWeb satellites at once.