In Kiev-controlled territory of Donbass, in the area of ​​the demarcation line, a clash occurred between units of the Armed Forces of Ukraine. The cause of the battle was the disobedience to the orders of one of the units of the Ukrainian army and the refusal to leave positions due to the separation of forces. It is reported by the NM DPR with reference to intelligence data.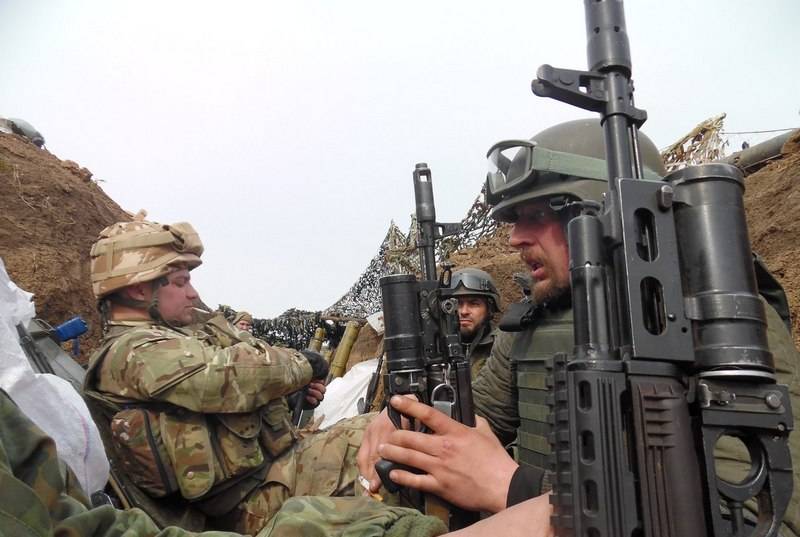 According to available information, the Ukrainian command once again tried to withdraw units at the force-separation station, but military personnel of the 35 Marine Brigade refused to obey the order, most of which adhere to "extremely radical nationalist views." The team refused to leave their positions, saying that this was a "betrayal of the interests of the country" and "surrender of Ukrainian land to the enemy."
Today, the Ukrainian command made another attempt to fulfill its part of the agreements and withdraw subordinate units at the site of the separation of forces and assets No. 3 "Bogdanovka-Petrovsky. The Marines of the 35th brigade refused to obey the order and leave the position
- said in a statement.
Negotiations between the command of the Vostok operational-tactical group and representatives of nationalists led to nothing, after which the forces of the 35th brigade were sent forces of the 3th separate special forces regiment of the Special Forces of the Armed Forces, with the task of forcing the brigade to fulfill the order. In response, the nationalists opened fire from the rifle
weapons
, An anti-tank missile launch was seen.
The disobedience of the soldiers of the 35th brigade to the command orders was announced as early as 7 of October, when they first ignored the order to withdraw to reserve positions. Then, in the command of the CAB, it was decided to replace the soldiers of the 35th brigade with more loyal fighters of the 128th mountain assault brigade from Transcarpathia, whose command was promised promotion on the career ladder and rewards if all wards were followed by all orders.
Absolutely the same situation occurs in the breeding area near Zolotoy, where nationalists also broke through to the position of the Armed Forces and are not going to leave it.
It should be noted that most likely, there will not be a withdrawal of forces in the Donbas for a long time, as the current government is afraid to touch the radicals who threatened it with a new Maidan.