Beijing introduced the Z-20 military helicopter, which, according to the creators, is a fully locally produced product. According to the publication of the Global Times, the rotorcraft is equipped with a Chinese engine powerful enough to fly in high mountains and using the most advanced innovative technologies.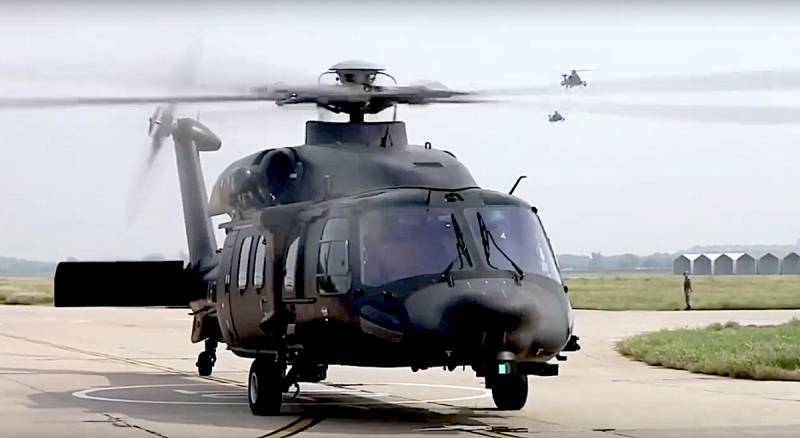 The latest military helicopter Z-20 made its debut at the parade on October 1, dedicated to the 70th anniversary of the founding of the PRC. At the China Helicopter Industry Development Forum 2019, Wang Sibao, chief engineer at Harbin Aircraft Industry Group, a subsidiary of the Corporation
aviation
China Industry (AVIC), noted that the helicopter is the "brainchild of the 21st century."
Z-20 (WZ-20) uses many technologies that should be considered advanced, including active vibration control, highly efficient aerodynamic and low-noise rotor design, electronic control system (EMDS).
- Wang noted.
The use of this technology in a Chinese helicopter has already been reported by Military Review.
Li Linhua, chief technology expert at China AVIC Helicopter Research and Development Institute, emphasized that the latest science has been applied in the development of the helicopter. He also highlighted that rotorcraft with EMDS technology are available in only a few countries.
The prospective helicopter was completely made in China, said Chen Guang, deputy general manager of AVICOPTER. It is designed to operate in a rarefied atmosphere and its engine is powerful enough to work effectively in high altitude conditions.
Z-20 will contribute to the development of Chinese helicopters as new model developers can learn from its best practices.
- said Chen.
It is expected that after a preliminary demonstration at the parade, the Z-20 will be officially presented for the first time at the 5 China Helicopter Exhibition, which is taking place these days in Tianjin.
According to eyewitness descriptions, the helicopter's cockpit is fully digital: it uses high-contrast color displays that display the readings of all instruments. In addition, due to the increased glazing area of ​​the cockpit, the pilots got a better view.
The exact characteristics of the Z-20 are not given, however, it is noted that this is a multi-functional medium-capacity helicopter capable of adapting to various weather and territorial conditions, as well as various types of missions, including cargo transportation, transfer of personnel, search and rescue operations, as well as reconnaissance and anti-submarine operations. Many Chinese experts note that the car occupies a niche similar to the niche of the legendary American "Black Hawk."