From the northeast of Syria, which the Kurds living there call the Rojava area, fresh reports of the military operation that the Turkish Air Force and ground forces, along with their allies from the so-called Syrian Free Army (SSA), continue to come.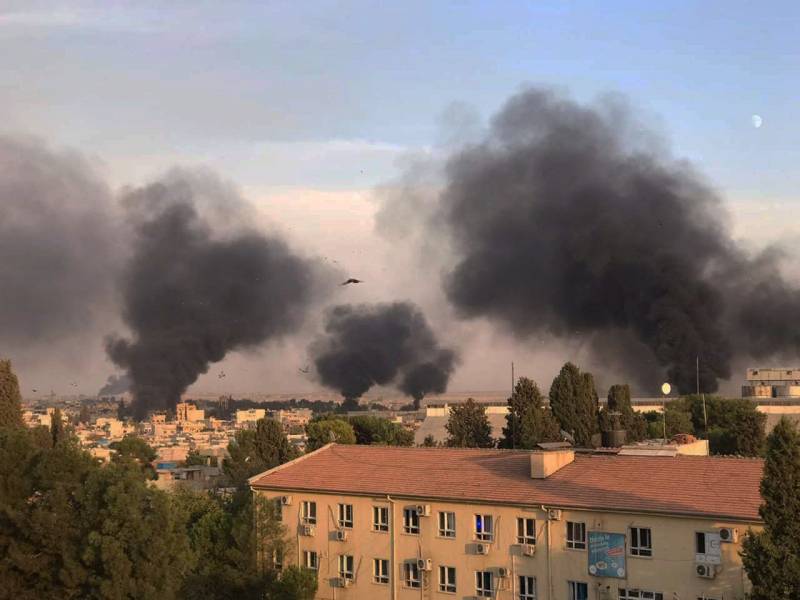 Among
News
last hours - Turkish
aviation
inflicts missile and bomb attacks on the city of Ras al Ain (the Kurdish version is Serikaniye) and its environs. The city is located in close proximity to the Turkish border in the province of Hasek.
The picture shows that the sky above the city in black smoke, which rises after the Turkish airstrikes.
The city, which Syrian Kurds consider their capital (the capital of Syrian Kurdistan, which earlier, in 2014, was proclaimed by the Kurds themselves an autonomous region within the SAR - called the Democratic Federation of Northern Syria) is also being hit by Turkish aviation. We are talking about the 200-thousandth (with suburbs) Kamyshly, which is also located in the province of Hasek, near the Turkish border.
This is Qamishli city in North Syria after Turkish attacks.@akhbarpic.twitter.com/jfwmyJWVcp

- Jenan Moussa (@jenanmoussa) October 9, 2019
In the frames you can see how several objects are burning in this city.
Meanwhile, mobilization is being carried out in the Kurdish regions of northern Syria. Men are given
weapon
. At the same time, on Turkish television channels, demonstrating these shots, they say that people "do not specifically change civilian clothes for camouflage, so that later, if they die, the command could accuse the Turkish troops of attacks on the civilian population."
Barış Pınarı Operasyonu'nun başlaması ile birlikte terör örgütü YPG / PKK militanları sivil kıyafetlerle çatışmalara hazırlanıyor.

Sonrasında söyleyecekleri şey belli: Türkiye sivilleri vurdu.

İspat olarak dursun bu video burada. pic.twitter.com/CGPYavK5SE

- Yaser Emre (@yasiremres) October 9, 2019
Against this background, five European countries demanded the urgent convening of the UN Security Council. We are talking about countries such as Germany, France, Britain, Belgium and Poland. The UN Secretary General, meanwhile, called on Turkey to restrain. The same wording was used by the Secretary General of NATO - the alliance of which Turkey is a member.