Case with the Mi-35P helicopter at a military parade in Indonesia
The network discusses footage from the Indonesian military parade, which took place a few days ago and was dedicated to the next anniversary of the creation of the country's armed forces. During the parade, up to 7 thousands of military personnel were involved, as well as dozens of units of military equipment, including aviation.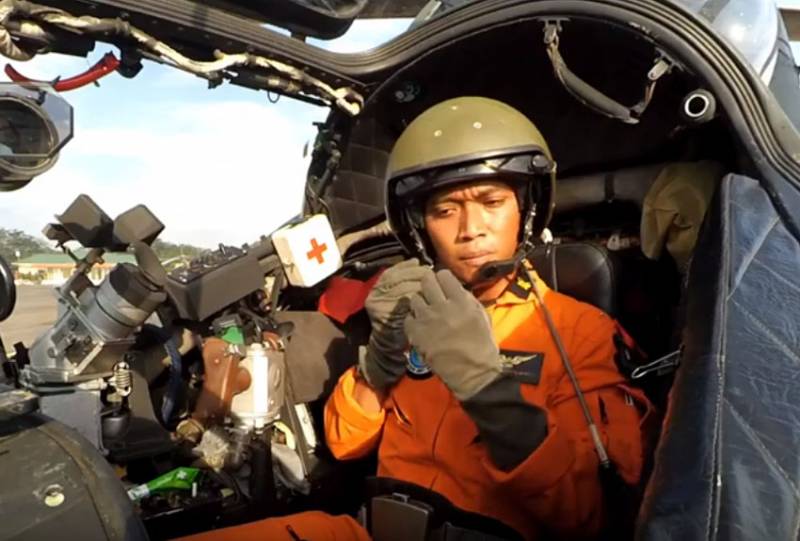 Two points in which the country's air forces took part attracted special attention of the audience. Firstly, these are demonstration performances on Su-30MK2 fighters previously purchased under a contract from the Russian Federation. Secondly, this is, to put it mildly, a strange helicopter flight at ultra-low altitude during a parade at the Halim Perdanakusuma military base.
Footage has been published that shows how a helicopter at an altitude of less than 10 m moves above the "boxes" of military personnel passing by the stands. And if during the flight before approaching the main platform this flight apparently did not cause any problems, then after the rotorcraft was with the platform for high officials in the immediate vicinity, an incident occurred. The wind, caused by the rotation of the screws, literally demolished the posters and awnings, which were located at the main rostrum. At the same time, dust was lifted into the air, the remains of the structures, which scattered many meters.
Apparently, the organizers of the military parade have lost sight of the moment that this is possible when using a helicopter at extremely low altitudes. A separate question: was the parade rehearsal held, or was it an improvisation of the Mi-35P pilot during the main action?
Ctrl Enter
Noticed a mistake Highlight text and press. Ctrl + Enter