The US Navy held a "baptism" ceremony for a Virginia-class submarine. The procedure marked the official adoption of the submarine.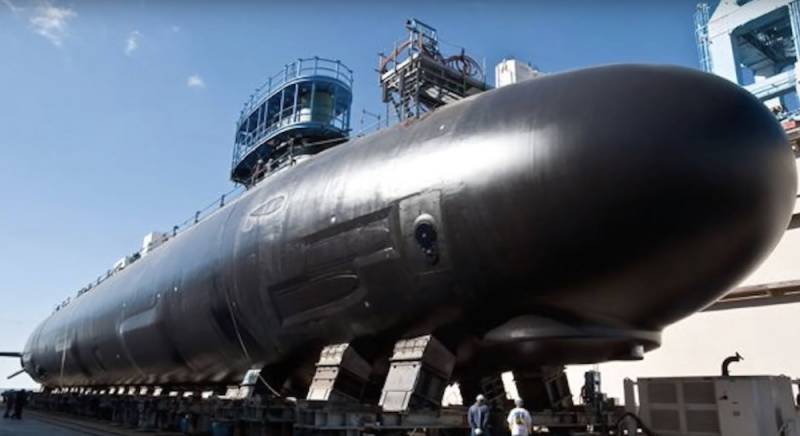 The US Navy officially adopted the USS Oregon (SSN 793) submarine, which is a Virginia-class submarine. The ceremony was held at the General Dynamics Electric Boat shipyard in Groton.
Kiel PL was laid July 8, 2017. An estimated $ 2,7 billion submarine is expected to join
the fleet
next year. Officially, the boat will get its name as soon as it is finally put into operation.
SSN 793 will be the third warship named Oregon. The first to have this name was the brig, purchased in 1841 to support the US Expeditionary Expedition and in use until 1845. The second was the battleship, which played a significant role in the Spanish-American war: it helped destroy the fleet of Admiral Servers. The ship also blocked Manila Bay in the Philippine-American War.
Vice Admiral James Kilby said that USS Oregon, equipped with the most modern weapons and sensors, will disappear under the waves and will not be detected until the time and place are chosen.
In total, 48 submarines of this class should be built, 33 of them - before 2030 of the year. It is assumed that they will completely replace the submarines of the class "Los Angeles" and the improved "Los Angeles" as part of the US Navy. The submarine reactor does not require refueling throughout the life of the boat, which reduces the life cycle costs and increases the travel time.
Submarines of the Virginia class are capable of attacking targets ashore with the help of high-precision Tomahawk cruise missiles and conduct covert, long-term surveillance of land areas, coastal waters or other naval forces. Among other things, the boat is capable of completing missions on anti-submarine and anti-ship warfare, delivery of mines and mapping of minefields.