Chinese citizens were clearly impressed by the grand military parade held in Beijing the day before. During the parade, the latest examples of Chinese weapons and military equipment were demonstrated, including those that the PLA and developers had never officially demonstrated.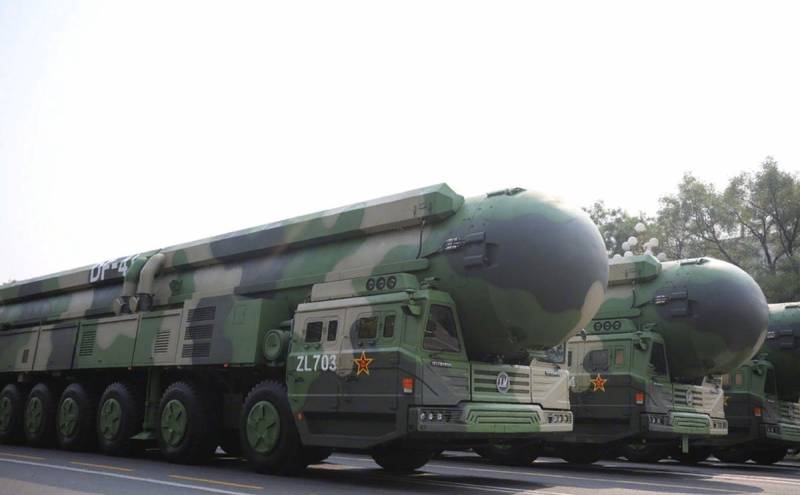 In the military section of the Chinese resource SINA, it is noted that for the first time so massively demonstrated the most powerful
weapon
Republic of China - intercontinental missiles. These are three versions of the Dongfeng missiles ("East Wind") - in versions 31AG, 5B and 41, as well as Julang 2.
In the comments on the material about the mass demonstration of ICBMs, Chinese users did not spare epithets: from statements about China's readiness to maintain world parity in terms of armaments to frank statements about the "superiority" of the Chinese armed forces.
Here are a few comments by Chinese users, including the published broadcast of the parade in the Chinese segment of social networks.
Dongfeng rockets showed for the United States. Others could not watch.
Before the advent of Dongfeng 5, the West often threatened the possibility of a nuclear strike. The appearance of Dongfeng 5A silenced the West. After the appearance of Dongfeng 31A, the West began to feel uncomfortable. And the advent of Dongfeng 41 turned the West into a younger brother.
This parade is a demonstration of trump cards in a card game.
On Chinese television, it is noted that China has shown "significant success in strengthening defense on the 70 anniversary of the founding of the People's Republic of China."
Meanwhile, the Western press continues to publish materials stating that during the Beijing parade, "the police violated the rights of protesters in Hong Kong." And on the network there was a photo from protests in Hong Kong, where on a white helmet with a red cross you can see such an inscription as "Glory to Hong Kong! Glory to the heroes!"