Turkey has no choice but to act alone, given that "too little progress" has been made in creating a "safe zone" in northeastern Syria, President of the Republic Rajep Tayyip Erdogan said on Tuesday. The Turkish leader is going to create an 480 km depth zone along the 30-kilometer border of the border.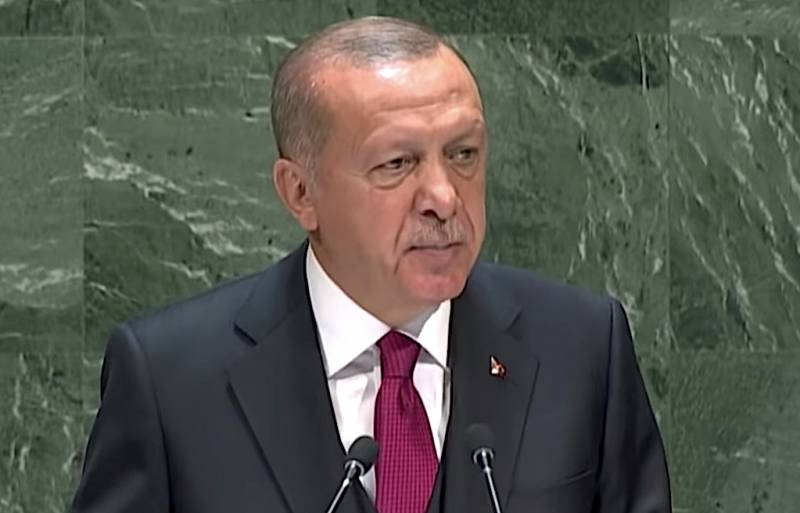 Ankara agreed with Washington to create a "security zone", and in fact - a "quasi-state" in the territory belonging to Syria. According to the Turkish plan, up to 2's of millions of Syrian refugees will be placed in an area that will be "cleared" of the Syrian Kurdish militia YPG, which Ankara considers a terrorist organization.
Having formed a controlled zone in the north of Syria, Ankara has repeatedly warned of unilateral military operations.
We have not achieved any of our desired results east of the Euphrates. Turkey can no longer lose a single day. We have no choice but to act on our own.
- Erdogan said at the opening ceremony of the parliament in Ankara.
We plan to place two million people in the safe areas we will create. We have calculated the costs and will make efforts to improve the situation. Turkey will begin to take steps as soon as the region is saved from the invasion of terror.
While Turkish diplomats, analysts, and opposition forces say Ankara does not want to anger Washington with a military invasion as NATO allies try to re-establish strained ties. The White House is opposed to this step, as it will affect the interests of US-friendly Kurds. At the same time, Erdogan's comments seem to put a new obstacle in the relations between the two countries and are a clear sign of the next changes in the region.
In his speech, the Turkish president added that Ankara intends to hold a "meeting of international donors" to receive funding for its plans in the area, which, he said, will stretch from the Euphrates River in Syria east to the Iraqi border.
Erdogan has repeatedly called on the Turkish allies to provide financial support to the project. In particular, he mentioned this in his speech to the UN last month. However, Reuters believes it is unlikely that Ankara will receive money for a program that will resettle people hundreds of kilometers from their homes and change the demographic situation in northeast Syria.