The United States Air Force closed its air operations operations center for one day, which is responsible for the territory from Syria to Afghanistan. This step was taken in preparation for a possible conflict with Iran.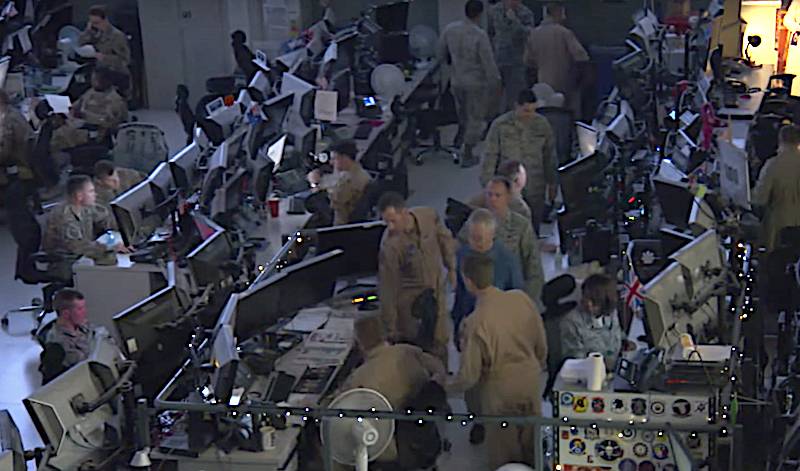 Operations Management Center
aviation
missions in South Carolina took command of all U.S. Air Force operations in the Middle East. For the first time in more than a decade, the so-called Joint Aviation Operations Center (CAOC) in Qatar did not control regional operations.
The decision to test this ability to shift responsibility to a command center in the United States was made amid growing tensions with Iran. In preparation for a potential conflict, the Pentagon conducted global exercises. Washington is worried that after unprecedented severity of attacks by cruise missiles and kamikaze UAVs on oil facilities in Saudi Arabia, such tactics will be used in the coming military conflicts.
The alleged targets will be US bases and command centers, and judging by the failure of the US air defense system set by Riyadh, such a strike could be successful. In particular, the Qatar base is within reach of various Iranian ballistic and ground-based cruise missiles.
Center was built for intervention in Iraq
Information about the exercises was first published by the Washington Post (WP), which the Air Force invited to test the capabilities of the US Air Force to transfer control from one command center to another. CAOC, also known as the 609 Air Operations Center (AOC), located at Al-Udeid Air Base in Qatar, discontinued 28 operations on September 2019. For 24 hours, personnel at the Shaw Air Base in South Carolina monitored all Air Force operations in the region, as well as coalition air operations in countries such as Iraq, Syria, and Afghanistan.
According to the Air Force, the construction of the SAOK in Al-Udeida began in 2002 in anticipation of the United States intervention in Iraq, which followed the following year. The command post began operational detail in February 2003, just a month before coalition forces invaded the country and overthrew its leader Saddam Hussein. WP reports that the operations center in Qatar, which today employs representatives of nearly a dozen US allies, is the only body responsible for United States and coalition operations in the Middle East and Central Asia since 2006.
The US Air Force was not sure of a smooth transfer of control in case of emergency. That is why the Pentagon conducted a great preparatory work, the result of which was the exercise in the framework of "preparation for the war with Iran."