The United States is completing the construction of another section of the Aegis Ashore global ballistic missile defense (ABM) system in Poland. It is intended, first of all, to counter ballistic missiles of medium and short range.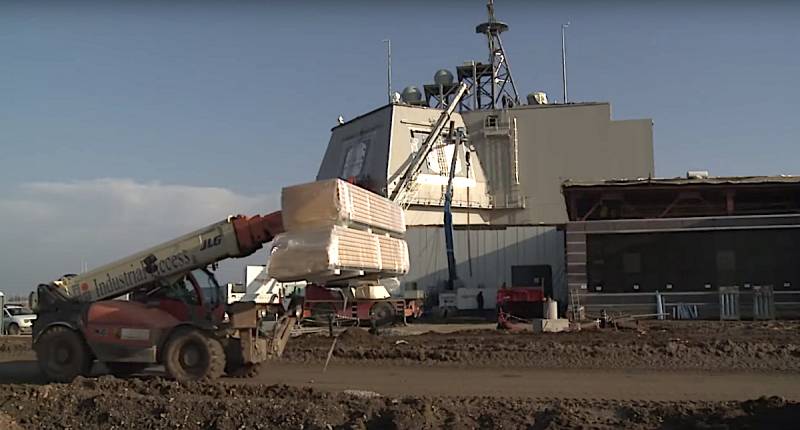 US Navy Vice Admiral John Hill, Director of the United States Missile Defense Agency (MDA), visited the Aegis Ashore missile defense system (AAMDS) site in Poland. His visit marked the progress made during the construction of the missile defense shield, which, in the future, would protect NATO countries from Russian ballistic missiles.
A new element of the American "shield" is being built near the town of Redzikowo. Hill and his entourage visited the multi-purpose residential complex, the galley and the inside of the "cabin" Aegis Ashore.
Currently, the construction of the complex is nearing completion, it is believed that the new facility will help strengthen the defense potential of NATO. The first facility of the Aegis Ashore global missile defense system was created in Deveselu, Romania, in 2016, as part of a phased strengthening of European defenses launched by the Obama administration in 2009. Aegis Ashore uses a system that is virtually identical to the one used on Aegis US Navy destroyers.
The system is designed to detect, track, destroy and destroy ballistic missiles in flight. In addition to the radar and control system, several launch modules containing interceptors of the Standart Missile-3 (SM-3) class will be placed at the facility.
Russia has repeatedly expressed the view that the presence of this system violates nuclear parity. The global missile defense system sets itself the task of shifting to the US allies part of the concern for protecting the territories of the countries of the North Atlantic Alliance from possible nuclear strikes. Initially, the United States stubbornly stated that the missile defense system was directed against Iran. At the same time, when Russia asked to provide documentary evidence of the illegality of the system against the Russian Federation, the USA was refused.