Elon Musk made a presentation of his Starship Mk1 spacecraft and promised to send it into orbit six months later. The presentation of the new rocket took place at the SpaceX launch complex in the Boca Chica area in Texas, where test launches of a reduced copy of the Starship Mk1 - the Starhopper apparatus - are carried out.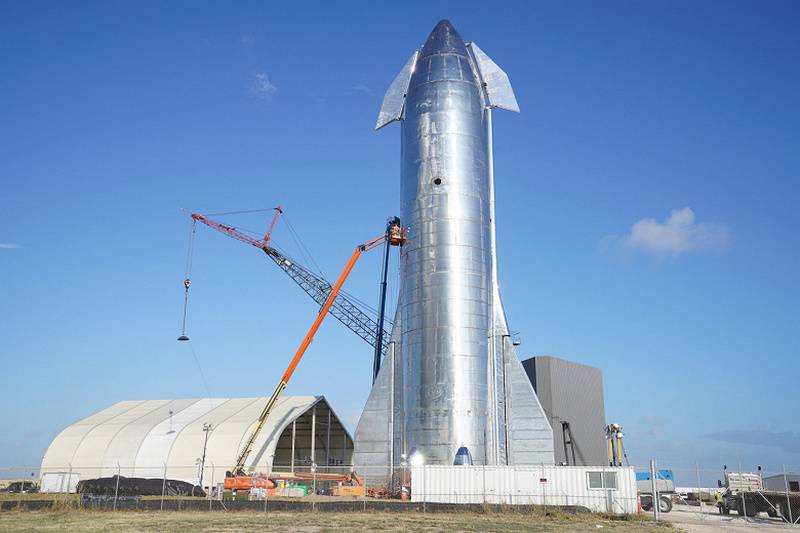 Starship Mk1 is being completed at the Boca Chica training ground
The founder of SpaceX, Ilon Musk, presented to the public the upcoming Starship Mk1 spaceship (work was carried out during the presentation) and announced that he would lift it into space within six months, and the first test flight of the ship would take place in one to two months. In this case, Starship Mk1 will rise to a height of 20 km.
It will sound crazy, but I think we want to reach the orbit in less than six months
- he said.
Musk spoke about his ship project and its structure. According to him, in the final version Starship Mk1 will have a height of almost 50 meters, the mass with a full load of fuel is 1400 tons. Equipped with Raptor 37 engines, it will be able to launch up to 150 tons of load into orbit or transport people to 100. To date, the company already has 12 of such engines, the tests of which were carried out on the prototype Starship Mk1 - Starhopper apparatus.
The head of SpaceX explained that the mission of Starhopper, by and large, has been completed, but it is still located at the SpaceX training ground in Boca Chica, only two kilometers from the under construction Mk1. Starhopper is the basic version of the Starship rocket, reduced by three times (the diameter is the same), but the equipment installed on it is fully consistent with the older model.
Starhopper after testing at Boca Chica in Texas
It was previously reported that the Starship spacecraft should become the largest and most heavily manned spacecraft in
stories
accommodating up to 100 people. The main purpose of this ship is to deliver colonists to the moon and Mars. In the Starship Super Heavy version, it will be more powerful and heavier than the NASA Saturn V rocket, which delivered the Apollo astronauts to the moon. Like other SpaceX rockets, the Starship Mk1 will be able to land on Earth after flying in space.