The Taiwanese Air Force in the near future will receive the latest supersonic combat training aircraft of national design. On September 24 this year, Taipei hosted the presentation of the first prototype of the Yongying combat training aircraft (XT-5).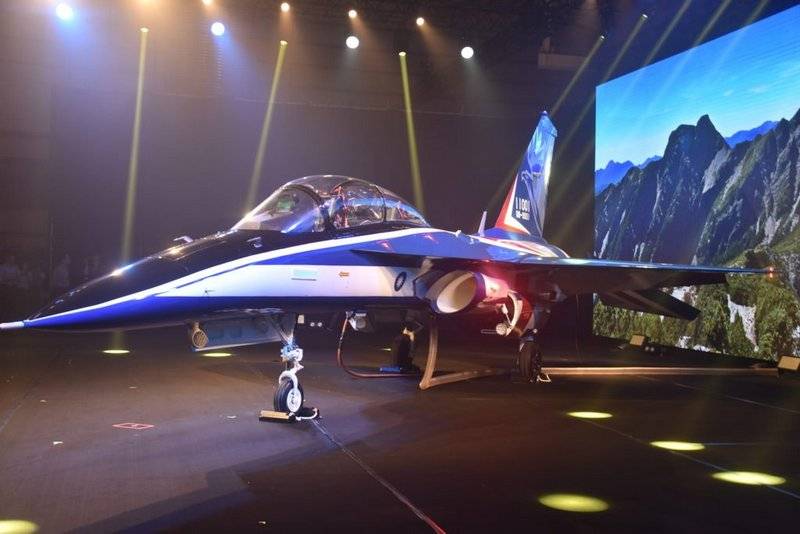 Taipei hosted the presentation of the new XT-5 combat training aircraft, developed by the Taiwanese aerospace company Aerospace Industrial Development Corporation (AIDC) based on the previously developed and manufactured AIDC for the Taiwanese air force, the F-SK-1 Ching-kuo light fighter, taken out of production at 1999 year.
It was previously reported that the new XT-5 was created on the basis of the F-SK-1В two-seat combat training fighter, but unlike it, it should receive a lightweight glider with widespread use of composite materials. In addition, it was stated that the new aircraft will lose radar and cannon weapons, but at the same time will receive a reinforced landing gear and an increased fuel supply. The Honeywell / ITEC F125 engines will be retained or replaced with their afterburner version of the F124.
Presumably, the two-seat XT-5 will have a maximum take-off weight of about eight tons. The aircraft will be able to develop supersonic speed, but there is no exact data on it, and the available ones vary greatly. Flight range declared up to 2,3 thousand kilometers. In the combat training version, the XT-5 will be able to carry various weapons weighing up to three tons.
Fighter F-CK-1, which served as the basis for the XT-5, has a length of 14,5 meters and a wingspan of about nine meters. A plane with a maximum take-off mass of 9,5 tons can reach speeds of up to 2,2 thousands of kilometers per hour, and its flight range is 1,1 thousands of kilometers. It is armed with an 20-mm caliber cannon and has nine suspension points for missiles and bombs with a total mass of 3,9 tons.
The new aircraft should replace the obsolete AT-3 Tzu Chung and F-5F Tiger II combat training aircraft in service with the 1984 and 1972 of the year, respectively, in the Taiwan Air Force pilot training program.