Oleg Sentsov, who was convicted of a terrorist crime, returned to Ukraine by decision of President Vladimir Putin, is now a frequent visitor to liberal venues. One of these was the Deutsche Welle, which the State Duma deputies are trying to call to account for attempts to intervene in Russian political processes. It must be recalled that DW published calls to take to the streets of Moscow before the September elections.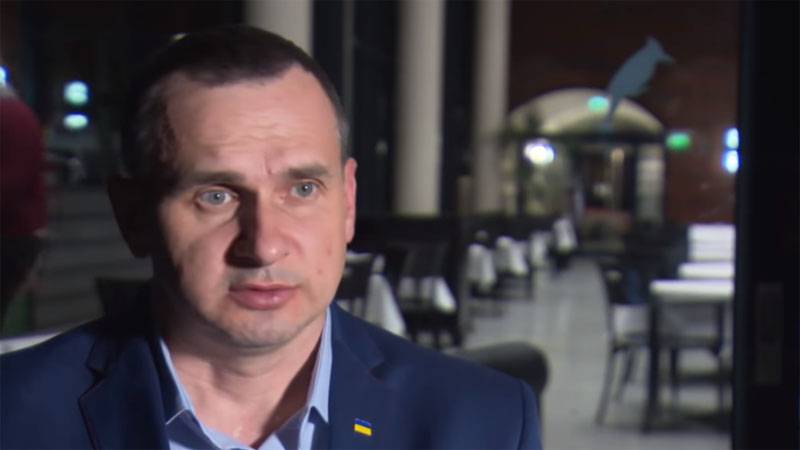 At the invitee on the air
DW
Mr. Sentsov asked what his dream was. Explicitly caressing the rumors of interviewers, Sentsov said that his dream is to see Vladimir Putin in the dock.
According to Sentsov, Putin should be in the dock for "crimes against Ukraine, Moldova, citizens of European countries and against Russia itself."
Sentsov, whom Putin had released from prison, said the Russian president "should be tried in The Hague for the downed Boeing."
Sentsov:
He did not give a direct order, but it is a consequence of his actions, his system, that a passenger plane was shot down.
A man calling himself a director added that he believes Putin is guilty of war in the Donbas, and that 13 thousand people have already died.
At one stage of his interview, the former "prisoner of conscience" uttered words that he was not fighting Russia, but "against the Kremlin regime".
It is important to note that at the beginning of the interview Sentsov once again actually admitted that his group was engaged in terrorist activities in the territory of Crimea.
Sentsov:
Then they decided to set fire to the office there. And then one decided that this was not enough, said that bombs should be planted. Well, he was like that, the kid is not in himself.
Recall that after returning to Ukraine, Sentsov said that if he returns to Crimea, then "only to
tank
».