The latest minesweeper of the 12700 project, Vladimir Emelyanov, built at the Sredne-Nevsky Shipyard in St. Petersburg, completed mooring trials and proceeded to factory sea trials. This was reported by the press service of the Central Nevsky Shipyard.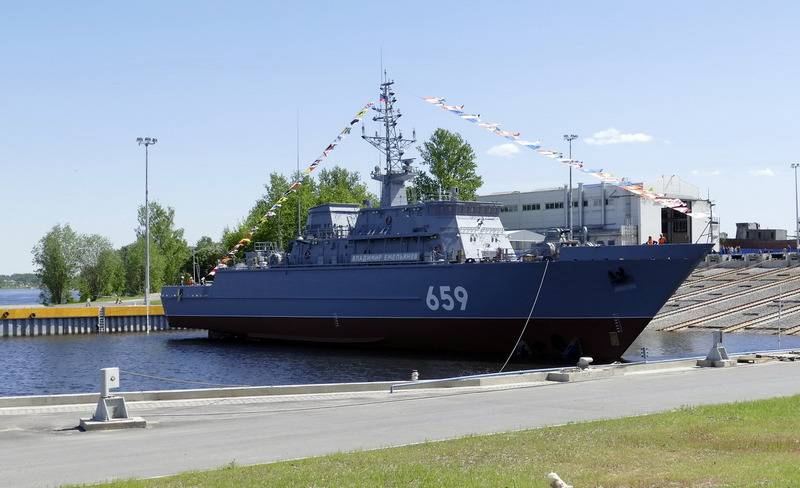 According to the press service, the latest project 12700 mine defense ship Vladimir Emelyanov went to factory sea trials, which will take place in the Baltic Sea. During the tests, the ship's crew together with the manufacturer's representatives will check all the ship's systems and mechanisms. Immediately after the sea trials, the state stage will begin, based on their results, a decision will be made on the introduction of the ship into the Naval
fleet
. The transfer of the ship to the customer is planned before the end of this year.
The sea minesweeper Vladimir Emelyanov is the fourth ship of this type and the second serial (laid down by the third) in a series of three ships built under the 2014 contract of the year. The head minesweeper of this project "Alexander Obukhov" was introduced to the Russian Navy in December 2016. In total, under the state arms program during the 2018-2027 period, the Russian Navy plans to receive 10 of the latest minesweepers of the 12700 Alexandrite project.
The 12700 project was developed by the Almaz Central Marine Design Bureau for the Russian Navy. Ships of this series have a unique hull made of monolithic fiberglass, formed by vacuum infusion. Ships are designed to deal with modern types of mines both in the waters and on the ground. They are able to use the latest sonar stations, located both on the ship itself and on remote-controlled and autonomous underwater vehicles, and have an automated mine action control system. Able to use traditional trawl weapons.
Displacement - 890 tons. The ship is 62 meters long and 10 meters wide. Full speed - 16 nodes. Crew - 44 person.