The latest promising Russian strike drone "Okhotnik" made its first flight in tandem with a fifth-generation fighter Su-57. The corresponding video of the flight was posted by the Ministry of Defense on its YouTube channel.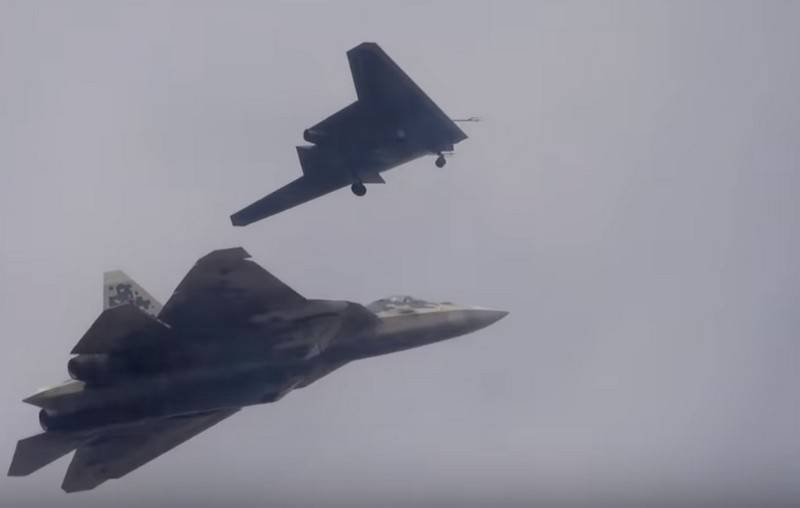 According to a widespread press release, the Okhotnik strike drone made its maiden flight in tandem with the Su-57 fighter. The flight of the Hunter took place in an automated mode without ground control. During the flight, the interaction between the fighter and the drone was worked out "to expand the fighter's radar field and transmit target designation for use
aviation
means of destruction ".
The unmanned aerial vehicle "Okhotnik" made the first joint flight with the fighter of the 5 generation of the Su-57. The drone flew in an automated mode in full configuration with access to the duty zone
- said in a statement.
The press service of the military department noted that the tests were carried out at one of the test aerodromes of the Ministry of Defense, and the flight itself took more than 30 minutes.
Recall that the first flight of the strike C-70 UAV "Hunter" was 3 this August and it was controlled.
Unmanned aerial vehicle C-70 "Hunter" is made according to the "flying wing". Its construction uses special materials and coatings that repeatedly reduce the EPR, which makes it virtually invisible to enemy air defense systems.
The take-off weight of the S-70 is about 20 tons. The UAV is designed for both reconnaissance and strike missions. When performing the latter, the "Hunter" can strike at fortified objects and armored vehicles of the enemy, including
Tanks
and armored personnel carriers.