Protected military devices, such as laptops and tablets, must combine the best qualities of commercial products and certainly high durability and safety, in connection with which manufacturers strive to use the most modern and advanced technologies with a special emphasis on the suitability of their systems for carrying.
Panasonic manufactures a number of secure devices that can be used in the military, for example, the FZ-G1 tablet (pictured)
Secure computers are a vital tool for soldiers. System manufacturers emphasize a number of priorities that are an incentive for technological development, since military customers need devices that combine the convenience of using commercial products and the reliability and security required by combat units.
In the world there are many manufacturers of protected devices for the military, some of them are well known in the civilian sphere. For example, Panasonic is developing the Toughbook line, which includes laptops, tablets, 2 to 1 systems (a hardened laptop with a removable screen that works separately as a tablet) and handheld devices. According to Peter Thomas of Panasonic System Communications Europe, "our systems have many customers in the military."
While different industries and business structures have many common needs, the armed forces put forward a number of special requirements. Thomas pointed out the need for low failure rates, which Panasonic intends to provide by maintaining the relevance of its own production process and ensuring complete traceability of the failure in the event of an occurrence. He also noted the need for longer battery life, as well as the advantage of hot-swappable batteries, which can be replaced without shutting down the system.
In addition, Thomas noted that there is a need for well-readable screens in the sun for the now popular LCD technology, so that soldiers in the field can work with information. The screens of devices manufactured by the company also have operating modes in the rain and gloves, that is, they distinguish a light blow of a finger from a raindrop or touch of a pen, for example.
According to Jackson White of Getac, a manufacturer of secure devices, including laptops, tablets, handheld devices, and laptops, civilian customers typically operate their devices in stable environments. In the defense sector, on the contrary, "users move in combat space and can find themselves in the most diverse, sometimes extreme conditions that our devices must withstand." For example, a small tablet after being worn by a soldier can be mounted on a drone or handed over to an infantryman standing behind a combat vehicle equipped with electronic warfare systems, that is, "the radio frequency stability of the devices must be at the highest level."
The military operates protected devices in a wide range of fields, from organizing storage to servicing machines and other platforms. This means that they must be easily configurable in order to "fit the special tasks of the military user." However, there is also much in common with the commercial sphere, and therefore it is possible to use some technologies developed for other industries in the defense sphere. White said Getac is actively exploring the potential of defense systems for the automotive industry.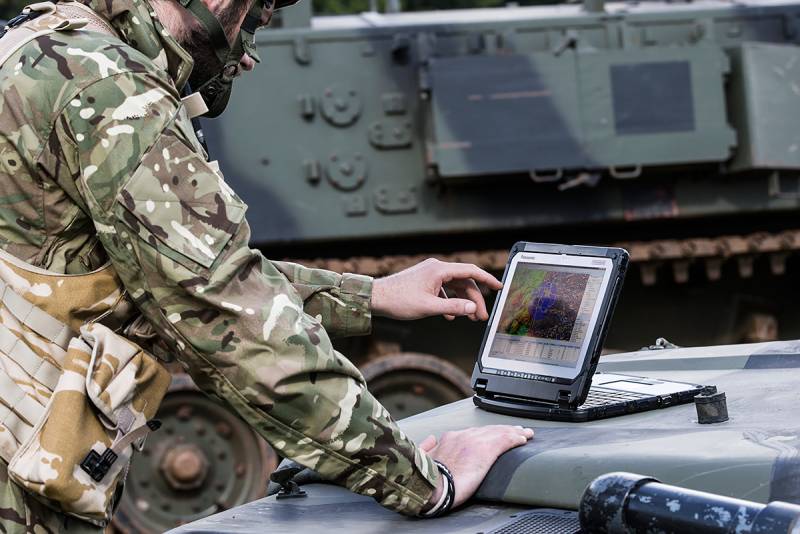 According to Panasonic, the military has a number of special requirements, for example, for them an important characteristic is a very low failure rate
Becoming mobile
One of the main goals of military users, as well as other operators, is to improve mobility, and this seriously stimulates the development of products. For example, in the new Toughbook line, special emphasis is placed on "2 to 1" plug-in devices, which can be used as ordinary laptops or tablets, while maintaining reliability that meets various military standards.
"Panasonic is constantly striving to increase the computing power of very small devices," said Thomas, noting that the armed forces of European countries appreciated the merits of the company's FZ-M1 tablet, which is not inferior in performance to a good laptop. Military operators want these devices to work as efficiently as "wearable data terminals, essentially making it easier for soldiers to use them at the same level of computing power."
Although the military still requires more traditional laptop-style devices, Thomas noted that there is a clear bias towards devices such as tablets, as users want to "access the same data, but in a smaller, thinner form factor." Users are also interested in various operating systems, but the military is increasingly looking at devices with Android OS. Panasonic recently launched two new products with this OS. These are the FZ-T1 and FZ-L1 models plus a set of Complete Android Services and Security (COMPASS) services that help military and other operators operate Android devices. "We are launching more products with the Android OS and are currently seeing the huge interest of European armies in the opportunities that Android provides."
Umang Patel, Dell Rugged's sales director, said, "Many countries have shown great interest in smaller, lighter devices, and the military wants them to remain as powerful and durable as they are today." It is expected that these systems will be able to operate in extreme conditions, for example, strong vibration or extremely high and low temperatures. However, "although these limitations have been and will be, the expectations of what devices can be are definitely changing rapidly ... we must ensure that the solutions we create meet the needs of the next generation of soldiers."
There are a number of complex issues associated with product development for the military. "Starting from the level of an individual soldier, you have problems in terms of how to wear these devices," Patel noted. "What does a soldier wearing a duffel bag with all his gear want?" Just not another heavy laptop. " As a result, there was an increased interest in belts and straps, which make it possible to carry devices as an integral part of military equipment.
"When most people think about wearable devices, they think about watches and smart glasses and other similar things, but in difficult combat conditions, many of our customers prefer to see wearable tablets with their soldiers."
If we take it more broadly, rather than an individual user, then "it is communication technology that allows personnel to use computer devices in the field," Patel said. Manufacturers such as Dell have focused on how to communicate with devices through a GPS network, cellular networks, or private networks. He added that Dell focuses on improving device performance and introduces a number of innovations in the field of batteries, which in particular can increase their battery life.
Patel pointed out the problems of security and control of such devices in the field. "In many cases, their work is not just information technology — it is, for example, guarding borders or maintaining peace." This means that mobile devices that are easy to manage and operate from the point of view of IT technology are a priority for military customers.
"They want to use their resources as competently as possible, they don't want to spend their days and nights setting up systems and downloading patches or installing programs, for them it's just a waste of precious time."
Dell has five secure products in its portfolio: Latitude 7212 Rugged Extreme; "2 to 1" Latitude 7214 Rugged Extreme; and three laptops: the fully protected Latitude 7424 Rugged Extreme and the semi-secure Latitude 5420 and 5424 Rugged systems.
Although there is a tendency to develop smaller devices - which is becoming stronger every day - the need for high-level capabilities in areas such as diagnostics (ensuring that the infrastructure and systems work as expected) remains prevailing. However, it is important that smaller devices retain the ability to perform such operations.
As a result, there is growing interest in such concepts as, for example, the Internet of things. By integrating sensors into the infrastructure and reading this data from tablets and laptops, it is possible to create very powerful systems in the aggregate network, the capabilities of which far exceed the capabilities of the individual devices that make up the network. "Ultimately, the Internet of things allows for a smarter infrastructure and intelligent decision-making systems that will help transform entire mountains of data into something meaningful and useful."
The appetite for tablets and smaller devices has become "much stronger, because even though they may not have all the communication capabilities that we had in the past, many companies are actively working on the principles of functioning of these devices - connecting with other devices, collecting data, providing analytics and intelligence to its end users or IT systems management. "
In the past, quite often it happened that the tablet used an application that was not intended for a mobile device. "In this case, a smaller form factor device might not work correctly with the application, that is, it could interfere with its use," White said. Nevertheless, the need to reduce the load on the soldier in order to improve his mobility remains one of the highest priorities. This means that such applications will increasingly be configured to become more tablet-friendly.
According to White, computer technology in the defense sector often comes from the world of consumers. "The pace of change can be much faster in the civilian sphere, so when introducing the latest technologies, we must be very careful ... because they can actually be another technological quirk." So Getac was thinking a lot about migrating its devices to the standard USB 3.0 ports. They very closely evaluate the latest trends in this area "in order to make sure that these specific protocols will work correctly for a long period of time before we include them in our devices."
White said the company is introducing new technologies, such as wireless charging, not only in the defense, but also in other segments of the market. Such technologies may one day be "transferred to the defense sector, since military systems require more and more energy and computing power."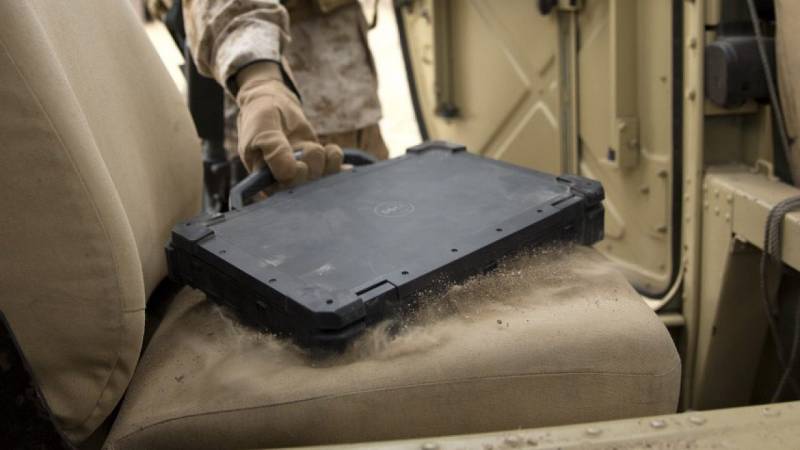 According to Dell, demand for smaller, lighter devices is growing in many market segments and countries.
Secure Hardware and Software
Thomas said Panasonic is committed to maintaining a high level of security for its products and at the same time creating them as close as possible to commercial systems. This approach, for example, was implemented in the development of the CF-54 Toughbook.
This is largely due to the wishes of the ministries of defense, as soldiers request systems similar to those systems with which they dealt in civilian life. Similarly, soldier reviews encourage the development of additional devices for basic products, such as removable solid state drives.
Of course, military users can work with sensitive data. If the device needs repair or maintenance, then it is not always advisable to give removable disks along with the device on which such data is recorded, even if in encrypted form. Therefore, companies must offer the functionality of removable solid state drives and Panasonic is currently exploring the feasibility of implementing this technology in 2-in-1 plug-in devices. "The purpose of this is to give users mobility, but at the same time give them the opportunity to work with sensitive data."
According to Patel, there are different levels of device security depending on the requirements of the task. For example, in command-type operations, where you need to use all the features, including communications, you need fully protected laptops that have the highest performance and reliability.
However, Patel noted that semi-protected devices are a kind of "gray zone" between fully protected and commercial devices, which can be useful for soldiers who need mobile devices with a certain degree of protection. They are generally more functional than traditional commercial laptops, although they will cost more "to those customers who spend millions, if not billions of dollars, of technology, equipment, infrastructure, people, training, etc. "They need to be more careful about spending the funds and resources that they have, however, semi-secure solutions can be more useful for certain tasks."
Data and hardware protection is very important for military operators. Although this, in general, is not a direct affair of equipment manufacturers, they nevertheless often collaborate with specialists in this field who can provide similar systems and applications. Thomas said that it can be either software encryption or hardware (built into the hard drive itself), adding that although Panasonic "is an expert in encryption, which the British Ministry of Defense uses, and is fully aware of what these encryption systems should be, the reality it's such that we do not manufacture or create our own encrypted products. " As for hardware, the company's products are compatible with systems such as, for example, Eclypt from Viasat; She also works with software development organizations, such as the Becrypt cyber security specialist.
White said that there is a great demand for mobile devices and there is a lot of work being done among military customers to study the role of tablets in the defense sector, but there are problems regarding data protection on tablets. "A small device can be easily lost, and so it's important to be sure that it has the right level of encryption to store sensitive data. Getac is working with several cybersecurity experts in this area. "
Patel said that Dell is committed to cybersecurity of its products in line with current trends, with the goal of "ensuring that its devices are compatible with defense technology and innovation." Although business units are developing their own cybersecurity offerings, Dell is not directly involved in the creation of specifications or the overall development of certain systems provided by third-party companies.
"While we are not directly involved in the development of specifications for such devices, there is no doubt that we receive feedback and information from customers and integrators and other defense partners in order to ensure that our devices are as ready as technology allows security or next-generation encryption capabilities. "
For example, according to Patel, Dell sees the interest of military and other customers of secure devices in iris recognition and other identification solutions other than using fingerprints or smart cards.
Patel noted that the concept of unlocking a phone using fingerprint authentication has until recently been relatively little known, but in the coming years it will become the standard in phones and computers. It is especially important to understand such changes in the field of security.
"This large-scale, characteristic of a certain generation, paradigm shift in the use of devices is absolutely important thing, the level of security that we put in our systems must meet modern challenges. And the name of this game is simple - to stay one step ahead of the enemy. "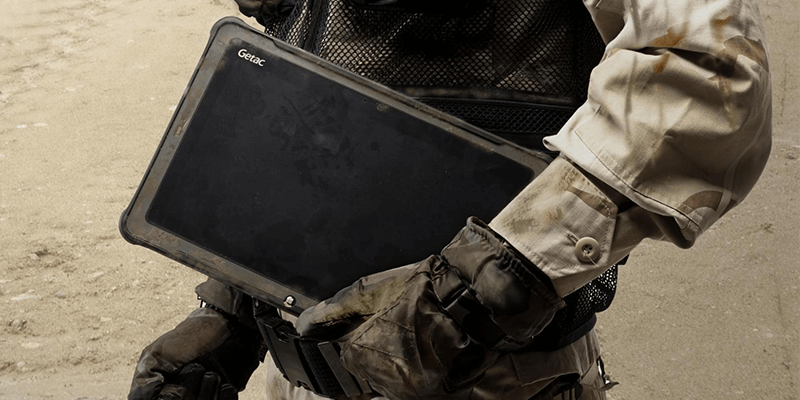 Getac manufactures secure devices, including F110 (pictured)
Technological change
Dell has teamed up with the Rugged Mobility and Precision Workstation divisions into one group, partly to reinforce the combined focus on developing more intelligent systems, including areas such as augmented reality (adding imaginary objects to the images of real-world objects, usually of an auxiliary informative nature ) In addition, Patel said that military and other customers of protected products are paying more and more attention to the development of machine learning and advanced artificial intelligence systems, "as a result, we see systems on the horizon that can automatically detect malfunctions and self-repair and adjust in the field fly. " A lot of this technology is built into the hardware itself, for example, SSDs are already able to detect read / write failures and isolate errors in order to prevent data loss.
"These very smart, almost neural networks (the main element of machine learning) are evolving. We see applications that cover everything from basic system reliability to monitoring external conditions, collecting data and providing advanced analytics to a person behind a terminal looking for the best solutions. "
Patel expects this to become a defining trend in secure systems over the next decade. As the systems become more powerful and more and more closely connected, more information will be processed and analyzed on the fly, and the decision will be made at the machine level "even before the operator has a chance to settle what is happening."
Thomas said that most likely more emphasis will be placed on mobility, the transition from tablet technology to wearable systems that a soldier can wear at the forefront in order to "gain access to critical data if necessary, without burdening himself with a laptop or tablet-style device ".
Panasonic spent last year exploring various options for investing in such solutions on an initiative basis and in collaboration with other companies; this process takes place both at its Japanese headquarters and in Europe and other units. "The goal is simple - to come up with some projects that, in our opinion, will offer military customers what they requested from us some time ago."
Panasonic's new wearable systems should be based on Android technology, but the company also wants to introduce some of its existing Windows-based technologies. She works with military customers to figure out which new wearable technology systems should be designed and how they will interact with other equipment that soldiers use, such as tactical programmable radio stations that automatically connect to various devices.
Much needs to be considered and decided, it is necessary to develop technologies together with various organizations, involving everyone from the parent enterprises to the armed forces and their own development teams. Thomas said that Panasonic will release a number of wearable solutions in the near future.
White predicts a significant development of wireless technology in the coming years. Getac is in the early stages of exploring several technologies, especially wireless charging, in which the company invests "big money." He also sees customer support as an obvious and growing trend, and so Getac is developing built-in mobile device management that enables customers to track and route predicted device malfunctions or problems to the monitoring system. "We have already tested these opportunities in the civilian sphere and are currently thinking about how we can integrate this into the defense sphere."
Protected laptops and other computer devices are currently an important tool of the armed forces, which must combine commercial trends with the security and reliability necessary for the military. This applies to hardware and software, as well as operating systems. Given the speed of developing commercial devices and the growing demand for wearable systems, in the coming years, manufacturers will most likely be forced to reckon with new realities, directing a lot of efforts to meeting the needs of the military.